Michael Dell primps for Microzon's mega data centers
Sucking up to the cloud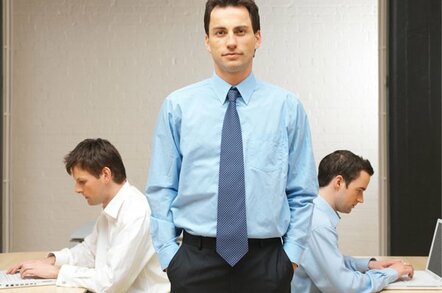 Yes, Dell has hired away IBM's mergers and acquisitions genius. And yes, the PC maker has expanded its arsenal with that $3.9bn acquisition of services giant Perot Systems. But Michael Dell has no intention of transforming the company into a one-stop-shop for the enterprise.
In between the netbook insults he tossed at Silicon Valley's tech-obsessed Churchill club last night during an appearance in Santa Clara, California, the Dell Computer boss found time to discuss the company's place in a world where the likes of HP, IBM, and Cisco are trying to offer corporate customers just about everything.
Asked if Dell the company would mimic such efforts to own "the complete stack" - hardware, software, and services - Dell the man said no. "We're gonna forge a different path," he said. "The desire of customers to buy everything from one company and have that company own all of the technology - there's actually not a lot of customers who want that.
"There are some. But many more customers are interested in someone who will integrate for them the best technologies and bring them - really - a solution. That's how we grew up as a company and continue to evolve."
But Dell indicated the company would continue to acquire certain pieces of the puzzle as needed - no surprise given its much-discussed poach of IBM's mergers and acquisitions guru David Johnson. After his "different path" bit, he said: "That doesn't mean we can't own certain key parts of IP [intellectual property] that we think is critical for our future."
Asked if Dell would be more inclined to partner with software outfits - as opposed to acquiring them - he demurred. "I think you'll see us partners, absolutely. But we have some software assets, and we'll probably have some more."
He said that following its Perot Systems buy, Dell would be a "different kind" of services outfit, one that offers "more IP" than others.
From where Dell is sitting, talk of the complete enterprise stack is woefully misplaced - especially where the largest companies are concerned. "This conversation about the enterprise stack has really been focused on the largest customers," he said. "But what we find is that if you go talk to these largest customers, they - of all people - are the least interested in having all the technology from one provider."
The Big Future, Dell indicated, is in what Intel calls the Mega Data Center, massive facilities from the likes of Google, Amazon, Microsoft, and Facebook that serve up online services to so many others via the so-called cloud.
Dell's new data center solutions business counts Facebook as a customer. "If you look at Microsoft Azure, if you look at Amazon, if you look at these data centers that are being built to enormous scale, they look nothing like this vision of the enterprise stack," Dell continued. "If I had to guess what the virtualized, multi-tenant world looks like in the future - five years from now - I think it's more like what we're seeing these large web farms do."
In other words, the Microsofts and the Amazons do things their own way. They don't want a pre-fab stack. And as more and more companies move their IT resources into the so-called cloud, those Mega Data Centers become more and more important to the Dell bottom line.
As Intel told us earlier this year, Mega Data Centers will account for 20 to 25 per cent of its server chip sales by 2012. And if that's where the chips are going, it's where the servers are going. And the software. And the services.
And the Dell.
Bootnote
Michael Dell was also asked about his company's future as a mobile phone seller, and even by the standards of CEO-speak, his response achieved new levels of uselessness. "I do think there is definitely a phenomenon going on with this internet in your pocket," he said. "There are platforms that are emerging from many companies. And when we look at those, they're pretty interesting."
This was the closest he came to admitting a Dell entry into the American phone market: "I think you'll see us show up there gradually," he said. Dell has already struck a deal to produce phones for China Mobile Ltd., China's largest cellular carrier. These devices will use China Mobile's OMS technology, which is based on Google's Android OS. ®