HP invites you to touch its PCs
Dangles TouchSmart desktops, laptops
As part of its ongoing rollout of new PCs and laptops ahead of the Windows 7 launch next week and a presumed bump up in PC sales, Hewlett-Packard has announced another batch of new machines for consumers and corporates. The big push today is for relatively inexpensive touch screens for laptops and desktops and low-cost Compaq-branded PCs and laptops for consumers and small businesses.
HP says that it has worked to bring the cost of touch screen technology down so it can put it in more devices and charge less money for it. There are six new TouchSmart PCs being announced today for delivery on October 22, concurrent with Microsoft's launch of Windows 7.
The new touch-based PCs are part of a fall PC refresh cycle that HP began back in mid-September and that will continue in November and December, according to HP. So the new machines debuting today are not the last of the new fall lineup. HP contends that there untold millions of PCs out there that are three, four, or five years old and that consumers and companies alike will be wanting to get new notebooks, desktops, or even maybe their first netbook because of their aging machines. (Or, more likely, because they are sick of the Windows cruft that seems to cripple a machine after it has been running for a few years).
First up of the new PCs coming out today is the TouchSmart tx2-1377nr notebook, which has one of those twisty screens that turns it into a tablet PC. This notebook is based on Advanced Micro Devices' Turion X2 dual-core RM-75 chip running at 2.2 GHz, and it comes with 4 GB of DDR2 memory (max of 8 GB), a 320 GB disk, and a 12.1-inch 1280x800 screen with an ATI Radeon HD 3200 with a total of 1.9 GB of graphics memory.
It has an integrated Webcam, microphone, and wireless LAN adapter, and it comes with Microsoft's Office OneNote tablet application, which lets you take notes and make drawings. It is preloaded with the 64-bit version of Windows 7 Home Premium edition. With the battery and peripherals, this TouchSmart tx2 notebook weighs in at 8 pounds and has a base list price of $800. That's about a 30 per cent lower price compared to the cost of a touch-screen tablet notebook a year ago, according to HP.
The TouchSmart 300 and 600s (which have two models each) are HP's third generation of touch-enabled desktop PCs, and they come with the PC guts built into the screen. They all run Windows 7 the 64-bit version of Windows 7 Home Premium edition, which is suitable for home and small business use, and for businesses in general who don't want to give Microsoft more money than they need to.
The TouchSmart 300-1020 is based on AMD's Athlon II 325e dual-core chip running at 2.7 GHz, and it sports 4 GB of memory an a 500 GB SATA drive. It has one PCI-Express x16 slot (occupied by a video card, the same ATI Radeon HD 3200) and two empty PCI-Express x1 mini slots. It has integrated wireless and wired networking, a Webcam, a DVD burner, integrated TV tuner, and a low-profile wireless keyboard and mouse. The touch screen for the TouchSmart 300-1020 is 20 inches along the diagonal (the screen resolution was not available at press time). The base price of this unit is $899.
The TouchSmart 300-1025 is the same machine, only it has a 2.8 GHz Athlon II X2 240e dual-core chip and a 640 GB disk drive.
The TouchSmart 600-1050 is based on Intel's Core 2 Duo T6500 processor running at 2.1 GHz, and this touch PC comes with 4 GB of memory, a Nvidia GeForce G200 graphics card (topping at 1.9 GB of graphics memory, some of that being on the graphics card and some of it being main memory allocated to graphics by Windows 7), plus the integrated wireless and wired LAN, DVD burner, TV tuner, and peripheral slots.
This Intel-based device, however, comes with a 23-inch touch screen (it looks like it has a 1080 pixel width, but the screen resolution is again missing from the datasheet). The base price for the TouchSmart 600-1050 is $1,049. The TouchSmart 600-1055 is the same machine, but using an Intel Core 2 Duo P7450 processor running at 2.13 GHz, an Nvidia GeForce GT230M graphics card that can have up to 2.8 GB of memory allocated to it (the same graphics-main memory split is at work here), and a 750 GB SATA disk.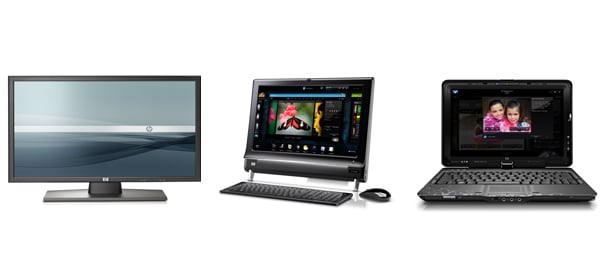 HP's 42-inch LD4200tm touch screen display, TouchSmart 300 PC, and TouchSmart tx2 notebook (Click to Enlarge)
For real business customers (meaning companies that want something other than the Home Edition of Windows and who want a few other features not generally found on consumer PCs, such as a higher price tag and configurability within the model number), HP is launching the TouchSmart 9100 Business PC, which has the 23-inch screen with a glass cover, the integrated Webcam, dual microphone array, and premium speakers built into the unit.
The TouchSmart 9100 is based on Intel's Core 2 Duo P7570 running at 2.26 GHz or the T6570 running at 2.1 GHz. The device can run Windows 7 Professional 32 (the 32-bit version) or Professional 64 (the 64-bit version), and if you want to go above 4 GB of main memory in the PC, you need to get the 64-bit version. (That's base 2, baby). The TouchSmart 9100 tops out at 8 GB with its two DDR3 memory slots. It comes with a DVD drive, a Blu-ray combo drive, a six-in-one media card reader, and an Nvidia GeForce 200 graphics card on the motherboard in the system and an Nvidia 10P GT320M card as an option.
HP is throwing in 250 GB or 500 GB SATA drives into this touch PC for biz; solid state disks will be optional if businesses want to splurge for performance and quiet operations. The screen resolution was not announced, but base prices start at $1,299.
While this is not a touch PC per se, HP has also announced a 42-inch widescreen LCD monitor that is enabled with infrared touch technology that the company believes will be popular for digital signs. The LD4200tm will be available in December, and it costs $2,799. Slap a TV tuner into that puppy and strap on a media PC (the default PC to drive the screen as a digital sign is a dc7900 small form factor PC), and this thing could take over some middle-class living rooms. The other TouchScreen PCs mentioned above look kinda small next to this big screen, to tell the truth.
But not everything HP rolled out today had touch technology woven into it.