AMD ATI Radeon HD 5870 and 5850 DirectX 11 GPUs
Next-generation gaming
Despite this apparent win-win situation, AMD has come up with a reference design for HD 5870 that is surprisingly bulky. The HD 5850 board is as long as the HD 4890: 240mm (9.5in) while the HD 5870 runs to 280mm (11in). This means the HD 5870 projects beyond the motherboard and you need enough space to connect the two six-pin PCI Express power plugs. Those two power plugs each supply 75W and when you add the 75W feed from the PCIe graphics slot itself, you get a total of 225W which is comfortably higher than the 188W max power draw.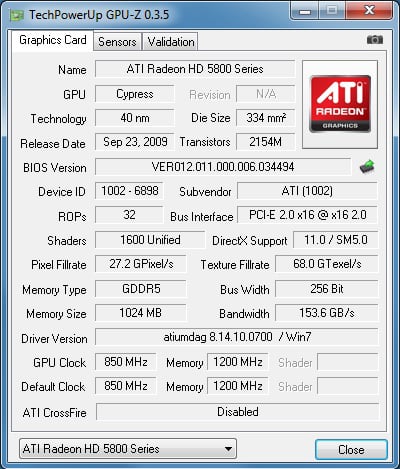 Radeon HD 5870
However, we note from strip-down photos that AMD has the option of replacing one six-pin connector with a 150W eight-pin plug. That would take the total power envelope to 300W so it's safe to say that AMD has an HD 5870 X2 on the drawing board.
The new reference designs have two DVI outputs as well as one HDMI and one DisplayPort. The drivers have support for three displays each with a resolution of 2560 x 1600, but AMD has another trick up its sleeve. It has the ATI Radeon HD 5870 Eyefinity 6 Edition in the works, a beast with six DisplayPorts. Eyefinity offers the opportunity of ganging up as many as six relatively cheap TFT displays in a vast video wall.
Clearly this isn't a mainstream application, but the very fact that it's possible is impressive for an all-in cost below £3000 for the graphics card and displays.
We've got two examples of the new Radeon HD 5870 graphics card on our test bench. The first is from HIS Digital and the second from Sapphire. However, they are both reference designs so there's nothing to choose between them in terms of the design, cooling system or clock speeds. We also have an HIS HD 5850 which looks identical to the 5870 only a bit shorter. Both brands come complete with the usual accessories and a voucher for a free copy of Dirt 2 on Steam, due for release on 11 December.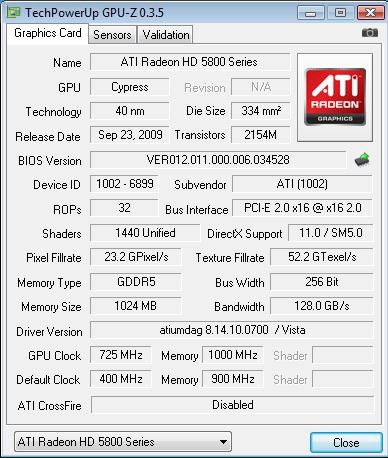 Radeon HD 5850
Testing was carried out on an Intel DX58SO motherboard with a Core i7 965 processor, 3GB of Ram and an Intel SSD. We used both Windows Vista and Windows 7 RC in the hope that we might see some benefit from the new DX11 operating system. One of the games we used for testing is Battle Forge which has recently been patched to support DX11. Alas, we didn't see any benefits. One possible reason is that Windows 7 RC is rumoured to have an incomplete version of DX11 that will be patched when Windows 7 is released.