MSI Wind Top AE1900
Touchscreen all-in-one PC
Being based on the Intel Atom, the AE1900 consumes very little power – only 45W in full operation, which is far less than a conventional PC/monitor combo. The system is also quiet, although certainly not silent. Switching it on causes you to be greeted with a rush of air as the cooling fan spins into action. Thankfully, it slows down after a few seconds to a far less intrusive noise level that MSI claims it should never exceed 26db.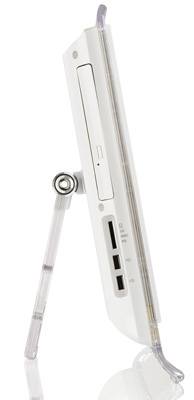 Additional USB ports and SD card slot on the left side
Like many netbooks, the AE1900 ships with and is designed to run Windows XP Home Edition. XP is designed to be pointed at with a mouse, not poked with a finger so MSI has cooked up a custom finger-friendly interface, 'MSI Wind Touch', which makes the whole system easier to operate with the touch interface.
It's essentially just a program launcher filled with extra-large icons grouped into four categories: Work, Fun, Tool and Web. You can choose which installed programs you want to appear in the interface by entering the configuration mode and simply activating them from check boxes.
Of course, you're not forced to use the touchscreen: A full-size low-profile keyboard and mouse are provided, both of which are, alas, of the wired USB variety. You'll probably find the screen is good enough for you not to need the mouse, but using MSI's on-screen keyboard software is nowhere near as easy to type on as the physical version. If it had just been a little bit narrower it would have been small enough to tuck away under the monitor's feet to save space when not in use but, unfortunately, this is not the case.
The package comes with a get a decent bundle of applications, including Cyberlink multimedia software and some of MSI's own rather bizarre games designed to show off the webcam by letting you shoot down aliens or control animated characters by moving your head around.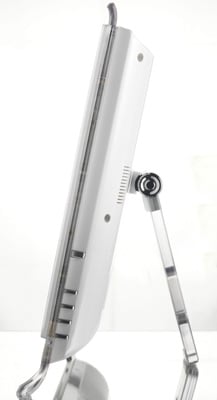 Various operational buttons on the right side
We found the touchscreen system pleasantly easy to use. If you sweep windows quickly around the screen, then you'll notice a tiny lag, but in general it's accurate, responsive and intuitive. Surfing Web pages is especially easy and fun using this method.
Sponsored: Detecting cyber attacks as a small to medium business