Toyota Prius fourth-generation e-car
Still king of the hybrid hill?
The Prius assumes that that being an environmentally caring type you will be moving away from rest slowly rather than attempting a quarter-mile drag start and so prepares to drive using battery power only. The petrol engine only fires up when you push the throttle pedal down harder to gain speed.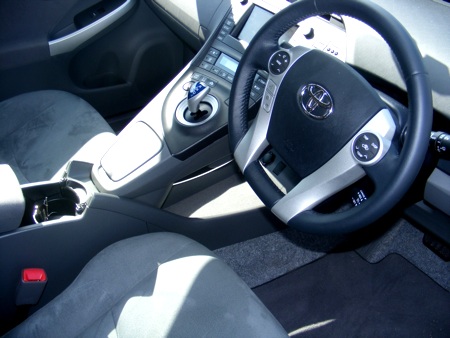 Yhe fly-by-wire joystick gear selector and key-less ignition are answers to questions no one is asking
Though basically a parallel hybrid like the Insight's Integrated Motor Assist system, Toyota's Hybrid Synergy Drive is a rather more complex bag of bolts that enables a greater degree of variation in power flow between the engine, the battery, the electric motor and the drive wheels, including a pure EV mode.
This is what really separates the Prius from the Insight: the EV button on the flying-buttress centre console. Press it and the Prius' petrol engine is taken completely out of the loop and drive comes exclusively from the 80bhp/153lb-ft (60kW/207Nm) electric motor and 13.1kWh nickel-metal hydride battery.
Assuming the battery is fully charged, the EV mode will get you about one and a quarter miles down the road at speeds of up to 32mph before the petrol engine resumes duty. 1.25 miles may not sound like much but if you're canny, you can manage to spend a fair amount of a low-speed urban commute driving in EV mode. And of course it means you can swap cars around in the drive and so forth without using a drop of petrol.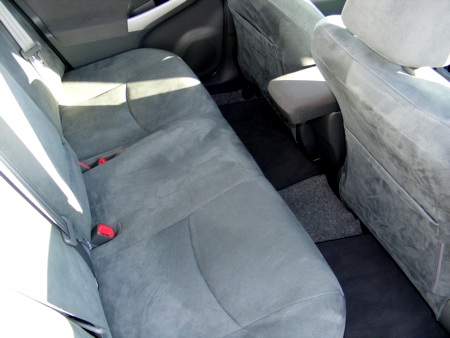 Rear legroom? Yes, it has some
When put to the test – by repeated loops of a local supermarket carpark one quiet Sunday morning, if you must know – we actually got an indicated 1.8 miles out of the battery, though admittedly this was at speeds of below 20mph. As with all battery-driven cars the faster you go, the less distance you cover.