Altec Lansing Expressionist Plus v. Edifier E3350
Two 2.1 speaker systems sound it out
Review With most computers bulging at the seams with music and video files, the days of making do with even a cheap set of active stereo speakers, let alone laptop offerings, are truly dead and buried. A decent 2.1 active speaker system will not only pay dividends when it comes to playing your music but can also provide bowel trembling bass when playing games or watching video.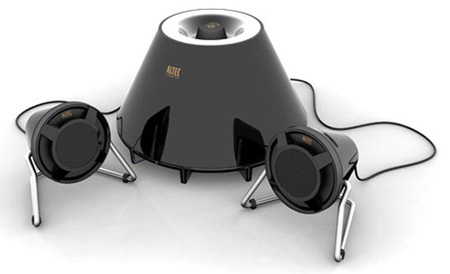 PC palpitator: Altec Lansing's Expressionist Plus FX3021
Recently, Edifier and Altec Lansing simultaneously released new 2.1 speaker sets that are in head-on competition. Both consist of a meaty downward firing subwoofer and a couple of satellites. Both have clearly spent some time and effort on styling as well as performance. And both are yours for under eighty quid.
Edifier describes the E3350 subwoofer as looking like an, ahem, 'exotic pyramid'. Yes, quite. Fourth Dynasty envy aside the E3350 continues the restrained and minimalist styling we have come to expect from Edifier, of late. Even though everything is made of plastic, it's a high-quality plastic with blemish-free matt black surfaces. Some rather nice design touches include the diffuse red halo LED that surrounds the touch sensitive on/off switch on top of the subwoofer and the satellites' cloth speaker covers.
Altec has gone for an altogether more curvaceous and organic design theme with its Expressionist Plus. This works well on the lovely gloss black subwoofer but the satellites look just little on the cheap side when placed alongside it, and this isn't helped by the over-designed speaker grilles and satin finish metal stands. Although the latter do, at least, allow you to change the angle of the speaker units themselves.
In short the Altec satellites look a little too much like PC speakers while the Edifier's look like small hi-fi speakers and we know which look we prefer.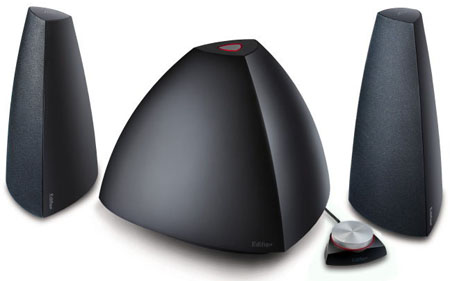 Hi-Fi choice? Edifier's E3350
Edifier has also thought rather harder than Altec about the best way to connect up a 2.1 speaker. The E3350's satellite tether cable branches from the subwoofer to each speaker allowing for a great degree of flexibility. Altec's approach is to connect one speaker to the sub and then use a separate cable to connect the two satellites together. The farthest apart you can separate the two Altec speakers is 150cm, while the Edifier's can manage twice that distance.