IBM wins benchmark crown with SSD power
Another tick in STEC's box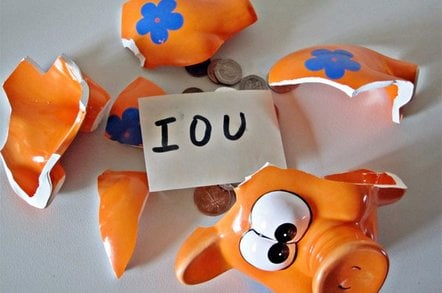 IBM has blasted the SPC-1 benchmark into the stratosphere with a flash-equipped POWER6 server.
The Power 595 server, using 48 cores and 84 STEC flash drives, achieved 300,993.85 SPC-1 IOPS (pdf). The total system cost was $3.2m with the per-SPC-1 IOPS being $10.77.
IBM held a previous record with its SAN Volume Controller (SVC), fitted with 1,534 hard disk drives (HDDs), achieving 274,997.55 SPC-1 IOPS.
The SVC uses System X servers for its processing hardware.
The Storage Performance Council's SPC-1 benchmark is a single application with mainly random I/O queries and writes applied to a storage subsystem. It aims to indicate the performance you could expect from that subsystem used for OLTP, database, and mail server-type applications.
Typical high-end array benchmarks have been at the 200,000-220,000 SPC-1 IOPS Level. IBM's SVC benchmark raised that to the 275K IOPS Level and now its Power 595 server, using only 84 ZeusIOPS STEC Solid state drives (SSDs) has pushed it past the 300,000 mark.
This is higher than the 291,208.58 SPC-1 IOPS recorded by Texas Memory Systems' RamSan-400, a DRAM-based solid state drive. The per-SPC-1 IOPS cost for that result was a piffling $0.67 which compares with the much more expensive Power 595 IOPS cost of $10.77.
The SSD portion of the Power 595 system cost was an estimated $722,000, $12,448 per drive, though actual customers would typically get a discount on this of maybe 30 to 40 per cent. It's still not cheap, and there are enough dollars in there to give STEC a satisfying price per drive.
The STEC drives had a raw capacity of 128GB. IBM configured them as 69GB with the remainder presumably used for wear-levelling. They were SAS-connected with six per enclosure and a RAID adapter per enclosure with a PCI-X to SAS bridge involved. Total usable SSD capacity was 5.8TB across 14 enclosures.
The Power 595 server had 64 cores on 32 chips but 16 cores were left unused by the PowerVM and AIX software.
Where does this leave us? The Power 595 server equipped in this fashion is an expensive box but it blows away the hard drive competition. In effect, the era of short-stroking disk drives, as with the SVC's use of 1,534 drives in the benchmark above, is over. EMC put the first nail in that coffin with its use of STEC drives in Symmetrix and this latest IBM SPC-1 result hammers another great nail in the short-stroking coffin lid. As SSD prices come down and energy-related cost issues rise up, using the SSD route to break out of a storage IOPS bottleneck will become commonplace.
Another impressive SVC IOPS feat was the QuickSilver project with one million IOPS achieved by using 40 Fusion-io ioDrive SSDs. Why hasn't IBM used such a configuration in the SPC-1 benchmark? QuickSilver was a demonstration and didn't use a sellable product. We're expecting SVC announcements soon though.
This STEC Power 595 benchmark is also a reminder to us that STEC is not just about SSDs replacing hard disk drives. Fusion-io may have grabbed a lot of media airtime with its QuickSilver demo, the similar HP one, and the recruiting of Steve Wozniak, but SSDs are about flash drives. Fusion-io has the media flash, but does it have the drive? ®
Sponsored: What next after Netezza?