WD Caviar Black 2TB
Two terabytes of performance HDD
The dual processors that control data flow in the Caviar Black are common to all of the drives in the Black range and so too are the StableTrac and NoTouch features. These are, respectively, a mounting system that supports both ends of the motor shaft and a way of ensuring the heads don't make physical contact with the platters.
Dual actuator technology is the result of a reworking of the end of each actuator arm: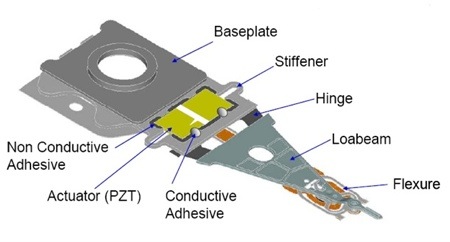 Instead of mounting the read/write heads directly on the actuator arm, WD has added an extra component to the system. The read/write heads are mounted on a piezoelectric actuator that in turn is mounted on the arm. This means that the head can move across as many as five tracks while the arm remains in one position.
During our testing we found that the 2TB Caviar Black compares very favourably to the 1TB Black. File transfer speeds within the 2TB drive are considerably faster than the 1TB which suggests that the increases in cache, areal density and head reach flexibility have worked wonders. HD Tach shows that random access time has dropped by a healthy margin while read and write speeds have all improved to the tune of 20 per cent. CrystalDiskMark also shows a marked improvement for the 2TB drive.
HDTach 3 Readout
WD Caviar Black 2TB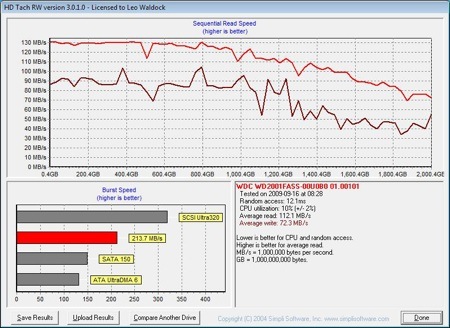 WD Caviar Green 2TB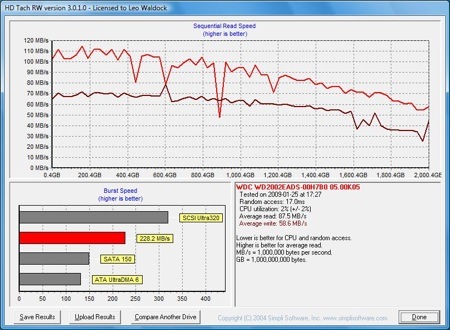 Click each image for a full-size version