WD adds e-ink screens to external HDDs
See the storage capacity, even when the power's off
Western Digital has added displays to the members of its My Book external hard drive range, allowing you to see how much storage you have left – even when the power's switched off.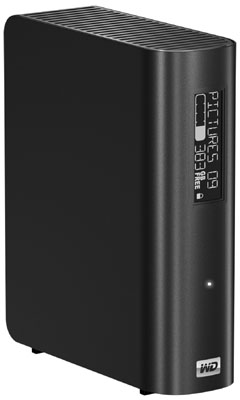 Western Digital's My Book HDDs have e-ink displays
The PC-compatible My Book Elite and Mac-compatible My Book Studio drives have both been kitted out with "e-label high-contrast smart displays" that read "like ink on paper", WD said.
Users can customise the display, allowing them to see only the storage-related information they're concerned about, whether that be the drive's security status, remaining capacity or number of pictures currently on the drive.
The display's information also remains "clearly visible" when the drive is unplugged, WD promised.
Storage capacity and connectivity is the only key difference between the Studio and Elite. Both come in 1TB, 1.5TB and 2TB models, but Studio buyers also have the option of a 500GB model.
My Book Studio for Macs (left) and My Book Elite for PCs
Studio has Fire Wire 800 and USB 2.0 interfaces, WD said, while the Elite only has the latter.
However, WD stressed that the Elite can be reformatted to work with Mac OS X Tiger, Leopard and Snow Leopard. The Studio can be reprogrammed for Windows 7 and Vista.
Both drives support 256-bit data encryption, WD added.
Western Digital's My Book Studio range starts at $150, while the My Book Elite is priced from $170 (£106/€115). Both are available now, but UK prices or launch dates haven't shown up yet. ®