Bit-patterned disk media moving closer
Tiny, insulated bits may be next big thing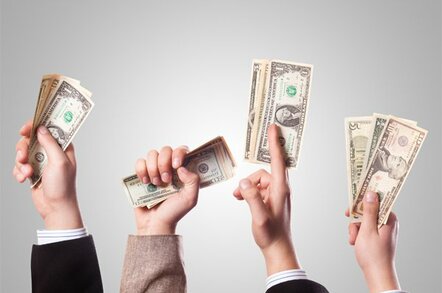 Intevac, a maker of disk drive media manufacturing machines, has revealed that it has received an order for two bit-patterned media production systems from an unnamed client, possibly signalling a recovery in HDD markets and an industry swing towards bit-patterned technology.
Current hard disk drives use a perpendicular magnetic recording (PMR) technology in which magnetised bits are created with a vertical axis and are packed together in tracks running around the disk's surface. There has to be a degree of separation between bits and between tracks, so that the magnetism of a bit can be picked up by the read head reliably and written properly without interfering with neighbouring bits.
Increasing areal density with PMR becomes harder as the bits shrink and are placed closer together. Bit-patterning involves keeping the vertical orientation of the bits, shrinking them, and surrounding them with insulating material to isolate their magnetism and prevent leakage to or from surrounding bits. As such it can be used to increase areal density without compromising each bit's magnetism and readability.
Intevac, which says it is the leading supplier of magnetic media processing systems to the hard disk industry, supplies a 200 Lean Gen II magnetic media deposition system. This hard disk sputtering machine is in use today to create PMR media. The Lean 200 can have from four to 24 process stations and is extendable, so that it can be used for successive generations of media processing.
The company has just received an order for two of these from an unnamed client. This would presumably be either Hitachi GST, Samsung, Seagate, Toshiba, or Western Digital. Stifel Nicolaus analyst Aaron Rakers says: "The deposition systems are designed for Bit Patterned Media."
Intevac saw increased sales of its systems as HDD suppliers geared up for PMR media production from mid-2005 to the end of 2006, with sales generally declining after that. We might be seeing signs of an uptick here, both in terms of HDD demand generally and in the transition to bit-patterned media.
Intevac president and CEO, Kevin Fairburn, said this was a capacity-driven order and: "The upswing in demand for hard drives has led to heightened levels of media capacity utilisation." Delivery is expected before the end of the year. ®
Sponsored: Becoming a Pragmatic Security Leader