Egyptians uptight about 'Artificial Virginity Hymen'
Fear outbreak of bogus cherry-popping
Egyptian members of parliament have expressed fears that a Japanese-made "Artificial Virginity Hymen" could prompt an upsurge in pre-marital relations in a country where women are expected to tie the knot with their cherry intact.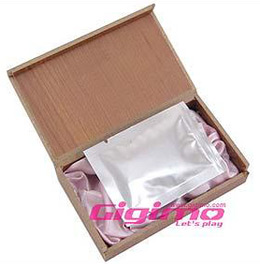 According to Associated Press, conservative politicians got wind of Gigimo's $30-a-pop virgin kit when a Radio Netherlands hack broadcast an Arabic translation of a Chinese ad for the product.
Cue concerns that duly-alerted Egyptian females might be tempted to place orders for the ingenious invention which will "will ooze out a liquid that look like blood not too much but just the right amount" and, when they throw in "a few moans and groans", will allow them to "pass through undetectable".
Sheik Sayed Askar of the country's opposition Muslim Brotherhood, who sits on the parliamentary committee on religious affairs, insisted: "It will be a mark of shame on the ruling party if it allowed this product to enter the market."
Islamic scholar Abdel Moati Bayoumi went further, declaring: "This product encourages illicit sexual relations. Islamic culture forbids these relations except within the confines of marriage. I think this should absolutely not be allowed to be imported because it brings more harm than benefits. Whoever does it should be punished."
There's more on the Artificial Virginity Hymen right here, including a slightly disturbing post-popping photo in the which the artificial blood looks like a Rorschach inkblot test image of a couple having sex while skipping. Readers are cordially invited not to speculate on this hack's current state of mind based on that observation. ®
Sponsored: What next after Netezza?