Toshiba reveals Cell TV specs
'Future of TV', apparently
Toshiba has whet the appetites of couch potatoes everywhere by releasing the final specifications of its most advanced HD TV yet.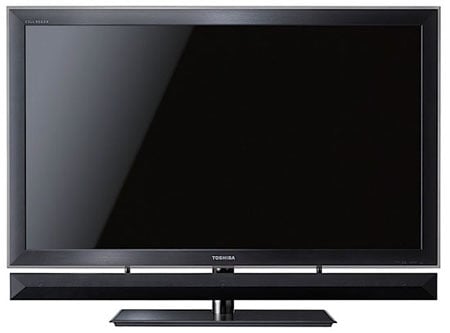 Toshiba's Cell Regxa 55X1: advanced
The 55in Cell Regza 55X1 – which essentially incorporates the same CPU found inside Sony's PlayStation 3 – provides "state-of-the-art picture quality", Toshiba claimed, and is supposedly a statement on the future of TV.
That's a very bold claim, but will Toshiba's latest flagship set live up to expectations? Yes, if the specifications are anything to go by.
Headline-grabbing specs include a 5,000,000:1 contrast ratio, a 1250cd/m² luminance, a 512-zone LED array backlight, a 240Hz refresh rate for super-smooth images, and a whopping 3TB of of integrated hard drive storage.
Two of those terabytes are dedicated to the set's built-in "time-shift" DVR, which will simultaneously record up to eight digital TV channels.
Users can retrieve content using a keyword search facility, Toshiba said, while each of the eight channels can be displayed at the same time using a multi-image picture-in-picture feature.
Regza 55X1's image quality is also unsurpassed, Toshiba implied, when watching web content accessed through the TV's broadband connection. "Super resolution" tech, for example, corrects noise compression on low-resolution internet content to produce sharper and clearer images, the firm said.
The set – which measures 1333 x 966 x 400mm, including the stand – also supports DLNA connectivity and will display JPEG images. Toshiba didn't say how many HDMI ports the 55X1 has.
Toshiba hasn't forgotten the all-important styling, though, because the TV has smoked aluminium finish and "alumite deposition process" that supposedly adds to the set's luxury feeling.
If there's anything to dislike about the Cell Regza 55X1, then it's the launch date: this December, and only in Japan. ®