Vodafone Access Gateway 3G
3G networking for cave dwellers
Review The fuss surrounding femtocells is hard to avoid, analyst Berg Insight reckons 70 million of the things will be in use by 2014, but Vodafone's Access Gateway is the first femto product to hit the UK. It's essentially an access point base station for mobiles, so if you want Vodafone coverage where there is none, then it's hard to dispute that this product is the way to do it.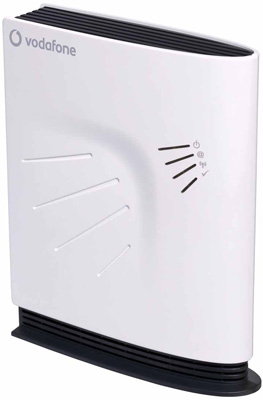 Vodafone's Access Gateway
As it stands though, the industry will have to find a better business model before we're all running our own base stations. The premise is a tiny base station that routes both incoming and outgoing calls over your own broadband connection. In doing so, it is effectively billing you twice for the bandwidth but, nevertheless, allows you to use a mobile phone in places where no signal reached before. Vodafone offers no discount on calls made over your femtocell, and data usage counts against your fair-use cap in the usual way.
The Access Gateway is also a 3G device, 2G handsets won't be able to connect to it, or use its functions. It is built by Alcatel-Lucent using chips from picoChip and comes with an external PSU and an Ethernet cable. On the box are four LEDs, the top two indicate if the power is on and the internet connection is valid, the bottom then indicates if the femtocell has successfully connected to the Vodafone back end, while the one above shows activity.
The really clever bit of femtocell technology is the auto-sensing it does to make sure it's not going to interfere with the macro network, or other nearby femtocells. Our box was up and running within an hour, but Vodafone warns that this process can take up to six hours, presumably a worse-case scenario.
You also need to register the phones you want to use with the box, through the Vodafone web site. Simply enter the femtocell serial number and up to 30 Vodafone numbers with whom you're prepared to share your broadband. However, the cell will only support four at users at a time. That's supposed to take up to 24 hours, presumably another worst-case scenario as we were up and running in about 30 minutes.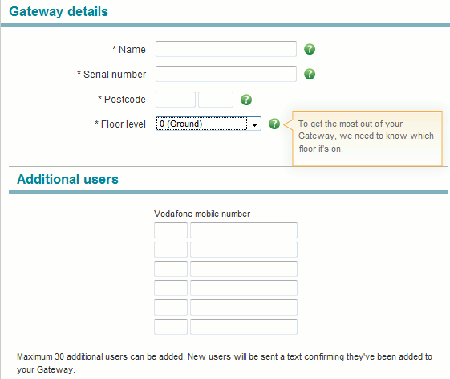 Register up to 30 handets, but only four can access the connection simultaneously
And up and running we were – all the handsets we used reported a strong 3G, HSPA, signal and data rates seems to confirm that. The range isn't terribly good, about 100 metres in the clear and we had to relocate the cell more centrally to cover a modest house, but comparable to Wi-Fi in our experience and solid once connected.
Sponsored: Detecting cyber attacks as a small to medium business