How Perot Systems played hard to get with Dell
Fourth time the charm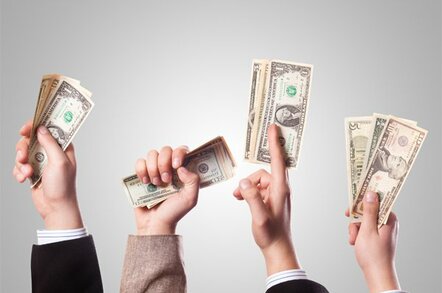 With Dell still on the hunt to make acquisitions to bolster its position in the enterprise, there are only a handful of companies big enough to make a difference on Dell's top and bottom line and yet small enough for Dell to buy.
Perot Systems had Dell right where it wanted it, hence the $3.9bn (a 67.5 per cent premium) that Dell is paying to acquire the company.
According to documents filed with the Securities and Exchange Commission, Dell initiated talks between the upper management of the two companies to explore the "strategic benefits and synergies of a possible acquisition" of Perot Systems by Dell in March and April of 2007. Not much came of the talks.
They parleyed again in late 2007 and in early 2009 to talk about the relationship between the two Texas IT firms, and Dell hinted at a possible acquisition again, but no one talked any numbers.
The two companies starting getting serious about each other on April 10, when Brian Gladden, Dell's chief financial officer, and Stephen Schuckenbrock, president of Dell's large enterprise business, met John Harper, CFO at Perot Systems, and Peter Altabef, the company's president and chief executive officer. They said they understood that getting the buy-in of the Perot family was key to the deal, since the family had 25 per cent of the shares and Perot Systems' charter required a 66.67 per cent approval for any acquisition to go through.
A few days later, Dell told Perot Systems is was working on a formal offer, and on April 20, Dell offered between $17 and $19 per share to acquire the service company. At the time, Perot Systems' stock was trading at $13 per share, so Dell was offering a 31 to 46 per cent premium over the then-current stock price to acquire Perot Systems. Considering the economic meltdown, one could argue this was a decent premium for Dell to pay. But the family felt otherwise.
So Dell consulted its corporate checkbook and mulled this for three months, and on July 20 upped its bid to $22 per share to acquire all of the outstanding shares of Perot Systems. This time, Michael Dell, founder and chairman of the company that bears his name, and Ross Perot Jr, son of the founder of the services company that bears his name, had a pow-wow a week later to talk about the possibilities of the acquisition. Perot's stock had risen to just under $16 per share.
Perot (the company) then sent a signal to Dell's board member, Thomas Luce, that the number was still too low, and throughout August, Luce rode point for Dell, talking to the top brass at Perot Systems, eventually saying on August 24 that Dell was prepared to offer $26.50 per share, with the Perot Systems shares trading at $16.90 a pop that day and representing 57 per cent premium.
Clearly, the longer Dell waited, the further into an economic recovery and stock market rebound the deal would get into, and the higher the price Dell would pay. After more backing and forthing in late August, the two parties finally agreed on a price of $30 per share in cash, and Perot Systems hired government darling Goldman Sachs to be its financial advisor.
In early September, the boards of the two companies did their analysis, due diligence, and voting to approve the acquisition at the $3.9bn price tag, and the lawyers for Dell requested a whopping $200m termination fee if the deal was canceled by Perot Systems, and this fee was haggled down to $130m just before the deal was announced on September 21. That $30 per share price was a 67.5 per cent premium over the $17.91 share price on September 18, the last trading day before the deal was announced.
As part of the due diligence, Dell required Perot Systems to give it some projections for sales for the next six years, and it is no surprise that Perot Systems is projecting that sales will fall by 9.8 per cent in 2009 to $2.51bn, but net income, though under pressure, is projected to be flat at $117.4m. (These numbers are for sales as if the Dell deal had not been undertaken, of course.)
The services company said it expected revenues and profits in 2010 to be more or less flat, at $2.57bn and $118.2m, respectively, but that growth would resume in 2011. In 2011, Perot Systems said that it expected sales to rise by 9.9 per cent, to $2.82bn, and net income to rise by 14.2 per cent to $135m. The company's spreadsheets projected steady revenue and profit growth through 2014, by which time Perot Systems expected to post revenues of $3.8bn and net income of $226.8m.
Dell has also offered employment letters, including salaries, bonuses, stock, and severance pay worth a total of $74.1m, with Peter Altanef, who will lead the Dell Services group that will be created from the combination of Perot Systems and Dell's own break-fix and professional services business, getting a $19.4m package.
Interestingly, the father and son Ross Perots have both signed non-compete agreements that extend out to the end of 2014. ®
Sponsored: Detecting cyber attacks as a small to medium business