O2 confirms UK Pré launch date
Rolls out iPhone-style contracts
O2 has finally confirmed a UK launch date for the Palm Pré smartphone.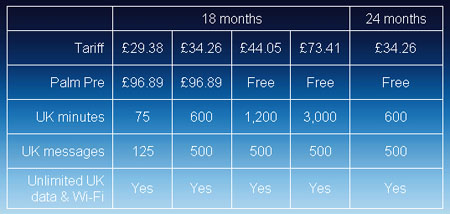 O2 will release the Palm Pré across Blighty from 16 October
The network operator will release the must-have device, both in stores and online, to panting punters on 16 October.
O2 has exclusive UK distribution rights for the Pré, but will also allow Carphone Warehouse and Phones4U to sell the smartphone from the same date.
Unsurprisingly, O2 has drawn up iPhone 3GS-style contractual agreements for the device – which you'll be required to sign into before the network operator will hand over a Palm Pré.
The smartphone will be free to customers willing to sign a 24-month contract costing £34.26 ($56.05/€37.97) per month. This will include 600 UK minutes, 500 UK text messages and unlimited downloads.
Alternatively, an 18-month contract - priced at £73.41 ($120.10/€81.36) per month – will still see you get a free Pré, but also a whopping 3000 UK minutes. The contract will include 500 UK text messages and unlimited downloads.
The cheapest and shortest monthly tariff available will cost £29.38 ($48.06/€32.56) per month and last for 18 months. However, the Pré will then cost you £96.89 ($158.52/€107.38).
Much noise has been made about the Pré's wireless charging dock – known as Touchstone. O2 said it will sell Touchstone, and the necessary back cover, for £44.11 ($72.16/€48.88).
Business tariffs lasting either 24 or 36 months will also be available. O2 hasn't mentioned anything about buying the Pré on pay-as-you-go, yet. ®
Sponsored: How to get more from MicroStrategy by optimising your data stack