Honda develops motorised unicycle
With dual bum cheeks...
Honda has created a high-tech unicycle, which the firm's claimed boasts the world's first drive system with 360° movement.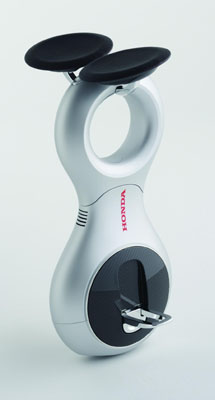 Honda's U3-X: More than a unicycle and motor?
The U3-X, described by Honda as an experimental personal mobility service, apparently fits – or should that be 'sits'? - comfortably between the rider's legs to provide 360° motorised movement.
To adjust the U3-X's speed or direction, all the user has to do is shift their upper bodyweight – a movement style that sounds somewhat like wearing a Hoola Hoop around your waist.
A collection of small-diameter motorised wheels connected in-line to form a single large-diameter wheel allow the U3-X to make 360° movements, Honda said.
The small wheels control side-to-side movements, while the large wheel controls forward and back motions. A combination of both allows the U3-X to move diagonally, Honda added.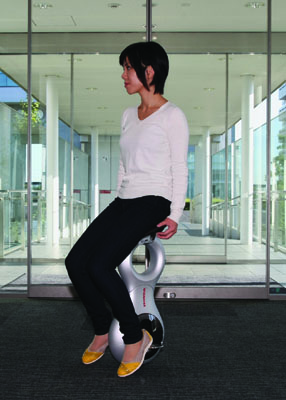 Sway left to move left, sway right to...you get the idea
Perhaps the second-generation U3-X will feature a third set of wheels – and some powerful thrusters – to enable vertical movements?
Many of the U3-X's capabilities are based on technologies used inside everyone's favourite orchestra-conducting, stair-walking and thought-controlled android – Honda's Asimo.
When atop the 315 x 160 x 650mm U3-X, the rider is apparently at "roughly" the same eye level as pedestrians. The seat, footrests and body cover all fold away into the device's 10kg body, Honda mentioned.
The U3-X is powered by a lithium-ion battery, which is good for 60 minutes worth of travel - Honda claimed.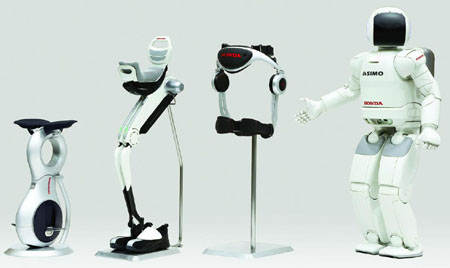 Honda used tech from Asimo (far right) to build the U3-X
Honda hasn't announced any plans to produce the U3-X on a commercial scale, but admitted that it's currently testing the device in "real-world situations" to "confirm the practicality of the technology". Read into that what you will. ®