802.11n Xbox 360 adapter inbound
Microsoft confirms rumours
Following weeks of leaked images and publication of an FCC product review document, Microsoft has confirmed that a better connected Xbox 360 wireless adapter is in development.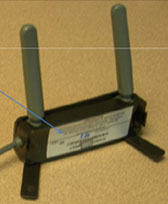 The Xbox 360 802.11n adapter
Microsoft's existing official Xbox 360 wireless adapter supports 802.11 a, b and g Wi-Fi. The upcoming model, Microsoft has announced, will work with the recently standardised 802.11n specification.
The company hasn't released any further details about the adapter, according to a report by gaming website Joystiq. Yet the company did promise that the gadget will "seamlessly connect" to home networks "with the highest wireless 'N' technology".
It's unknown if the upcoming adapter will replace the existing one. A launch date or potential price hasn't been announced, either. ®