'Do You Want To See My C*ck?' asks budding author
Look out Dave Gorman
The world of books is buzzing about a new publishing sensation to rival Dan Brown's The Lost Symbol, industry sources have revealed to The Register.
A groundbreaking proposal from new North West author Duncan Webster arrived at the office of publishing giant Random House last week, but quickly leaked to rivals and has sparked much discussion among London's literati.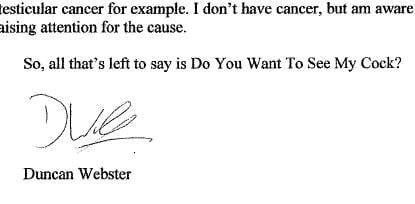 Webster's working title for the project is Do You Want To See My Cock? We'll let the talent explain, in his (genuine) pitch:
4th September 2009

To whom it may concern,

I am writing to ask whether your company would be interested in an idea for a book which I had recently. The theme of the book would be similar to the challenge/travel adventures of authors like Dave Gorman. The idea came to me during a recent visit to the doctor's in which I asked if I should take off my pants to show the doctor the rash on my leg. She asked if she could see without, I said yes, to which she said "In that case, no". But doctors have to see anything you show them, and so my idea is to see how many people I can get to see my penis without getting arrested.

As I said, doctors would be an easy start, but there's only so many time you can do that in the same surgery without getting a ban, which is what would make the challenge interesting. My immediate thoughts are then GUM clinics, life modelling, art installations, etc., but I would be willing to push the boundaries a bit for the good of the book and await your suggestions.

Initial ideas for working titles include "Do You Want To See My Cock?", "Can I Show You Something?" and "Balls To The Wind". I think we could probably find something better. I have also done a couple of sketches for the cover if you want to see them, (don't worry they're tastefully done).

I was thinking we could do this project as a charity tie-in, to raise money for testicular cancer, for example. I don't have cancer, but am aware of the importance of raising attention for the cause.

So, all that's left to say is Do You Want To See My Cock?

Duncan Webster
Small wonder Duncan has prompted such excitement. Several major publishing houses are today considering their response to his offer, we're told. ®
Sponsored: What next after Netezza?