LG unfolds tiny sub-A4 nettop
Ion inside
LG has launched a super-small nettop PC with Nvidia's Ion chipset inside.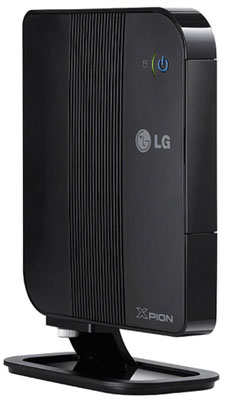 LG's Xpion X30: small, yet packs in Nvidia's Ion and a 250GB HDD
The Xpion X30 measures about the size of a folded sheet of A4, LG said, so we're guessing dimensions somewhere in the region of a sheet of A6 - 148 x 105mm.
LG's X30 would sit well alongside - or even below - your living room TV, the firm added, as a source of on-demand video and gaming content.
The unit would also provide you with the web, LG said, although it's keeping quiet about the Xpion X30's connectivity features just now.
Packed into the nettop is Intel's single-core 1.6GHz Atom 230 CPU, 2GB of DDR 2 memory and a 250GB HDD. The system runs Windows Vista Home Basic, LG added.
If connected to your living room TV, the X30's six USB ports mean it would make for an easy way of displaying photos and videos directly from your compact camera or camcorder.
LG hasn't said if the nettop features an HDMI port, but confirmed that it lacks an optical drive. That's no great surprise - most nettops do.
The Xpion X30 is set to go on sale in LG's native Korea within days. A UK launch hasn't been confirmed. ®