Archos adds Android 'andheld to PMP collection
Archos 5 revamped
Archos has launched a super-sexy internet tablet based on the OS of the moment – Android.
The redesigned Archos 5 boasts enough features to keep you entertained for up to 22 hours – the maximum length of time its internal battery will play music for. Buyers also get seven hours of video playback life, Archos said.
Central to the Archos 5 is its 5in, 800 x 480 touchscreen, which displays various video formats – including H.264 and WMV HD – and content at up to 720p.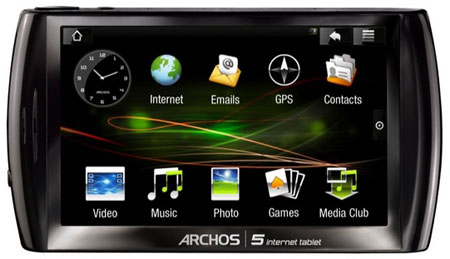 The Archos 5 boasts an Android OS, an Android apps store and TV on-the-go
Users navigate their way around the web tablet's various settings, features and pre-installed Android applications through sliding screens. The AppsLib Store then provides access to an Apple App Store-style shop for downloadable free and paid-for Android apps.
Mobile TV fans will love the Archos 5's ability to stream Web TV and radio channels directly into the unit. And, speaking of streaming, the gadget is set-up for Wi-Fi and Bluetooth 2.0. It also has an integrated FM receiver/transmitter, Archos said.
The web tablet comes in two storage flavours – Flash and HDD – and numerous capacity options, ranging between 8GB and 64GB of Flash, and 160GB to 500GB on HDD.
Opting for the HHD-based Archos 5 pushes the unit's measurements up from 143 x 78 x 10mm to 143 x 78 x 20mm and increases the weight from 182g to 286g.
A Texas Instruments' OMAP 3 processor - based on ARM's Cortex A8 architecture - drives the whole thing.
The Archos 5's other notable features include 3D GPS navigation, a microphone and speaker, and the option to hook into, say, your iPhone 3GS for wireless 3G connectivity.
Prices for the Archos 5 – which is available to buy now - start at £200 ($329/€224) for 8GB Flash unit, rising to £350 ($576/€329) for the 500GB HDD model. ®