Over Wi-Fi performance dropped to 0.99MB/s, 0.96MB/s and 0.35MB/s for reads, and 1.41MB/s, 1.60MB/s and 0.78MB/s for writes. For some reason, Ethernet read performance was consistently worse, scoring 0.32MB/s, 0.38MB/s and 0.15MB/s respectively. Write performance was slightly better, coming in at 2.38MB/s, 2.35MB/s and 0.64MB/s respectively.
CrystalDiskMark Results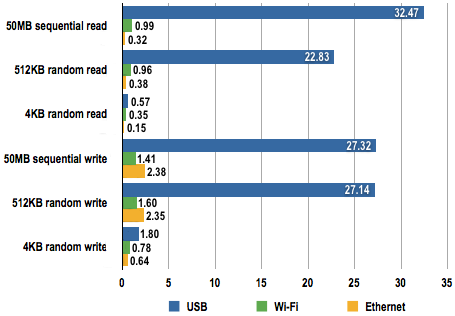 Data Transfer Speeds in Megabytes per Second (MB/s)
Longer bars are better
If you've got a large amount of files to transfer onto the MediaPlayer II, you're probably better hooking it up to a PC by USB, although Ethernet or Wi-Fi are reasonable if you just want to add the odd file now and again.
The MediaPlayer II also has a BitTorrent client built in, so you can pull down files directly to drive and you don't need to leave your PC switched on while it's downloading.
We found its file support a little lacking. It failed to play any of our test QuickTime H.264, MKV H.264 or WMV 9 files whether they were 480p, 720p or 1080p. It could handle both standard definition and HD DivX and Xvid files without a problem and would play these back from either the internal drive or stream them over Ethernet or Wi-Fi without dropping frames.
Standard definition MPEG 2 also proved no problem, both local and streamed, and it can play DVD VOB files without issue. If you've ripped any of your DVDs into ISO format, then it will also let you navigate the menus as well. MPEG 2 files at 720p proved more problematic, with some files playing but not showing on screen and those that would dropped frames when streamed. MPEG 2 1080p had similar problems as well. It will also play MP3 music files and you can view JPEG photos too.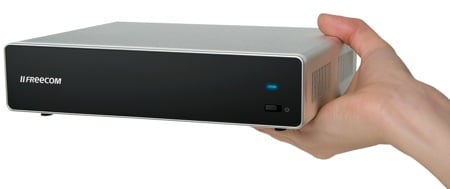 The MediaPlayer is about the size of a large desktop hard drive
The TV interface is extremely basic and slow - we found we frequently overshot the menu item we were aiming for. Having a display does make setup easier - you can see what you're doing to enter Wi-Fi passwords and things like that. On the downside, it appeared to occasionally forget the Wi-Fi settings after unplugging the adaptor and rebooting, which was annoying. The MediaPlayer also got quote hot in operation, so it needs to be placed somewhere were there's good ventilation.
Verdict
While the MediaPlayer II tries to be both a network drive and media streamer, it's not particularly adept at either. Its USB performance is adequate, but its network transfer speed it poor. As a media streamer, the interface is slow and frustrating and the file support limited. You're probably better off buying a dedicated Nas drive and media streamer and connecting the two together. ®
More Network Media Player Reviews

Wyplay
Wyplayer

Netgear
EVA9150

SiliconDust
HDHomeRun

Western Digital
WD TV
Sponsored: How to simplify data protection on Amazon Web Services

Freecom MediaPlayer II 500GB
The MediaPlayer II promises plenty, but ultimately fails to deliver either as a network drive or as a media streamer.