Freecom MediaPlayer II 500GB
Media streamer, meet Nas box
Review Despite its name, the Freecom MediaPlayer II is more than just media streamer - it's a Nas box too. So, not only can you use it to play video files in your lounge, but it's easy to get content on to it as well. Just hook it up to your network, and drag and drop what you want to watch.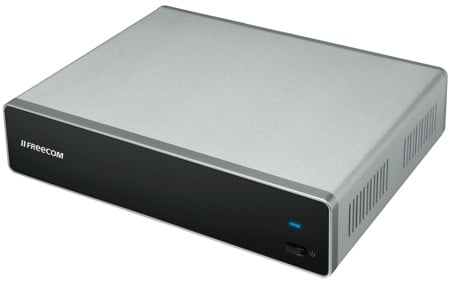 Freecom's MediaPlayer II: Nas and media playback box combined
As a device that will no doubt make its way into the living room, it's not offensive to look at but it's not the most stylish consumer electronics device ever made. The silver case and black front look decent, but it's not going to win any design awards. On the plus side, the constant blue light that's illuminated when it's on isn't so bright that it's distracting if you're trying to watch a video with the lights turned down.
Given its size, the MedialPlayer II is more likely to sit on top of existing AV kit, rather than in amongst it, as it doesn't fit the standard wide, short form. It measures 203 x 160 x 50mm, although you'll need to allow extra space around the back for cable clearance.
On the front, you'll find just a single power switch and a status LED, and the sides are clear apart from air vents. Round the back, you'll find an array of connectors to hook it up to a TV, plus ports that allows it to function as an external hard drive.
On the TV side of things, there's HDMI, component- and composite-video, and both analogue and digital audio. The device will pump out video at up to 1080i resolution. For storage connectivity, there's a 10/100Mbps Ethernet socket and two USB ports - a square type B connector to hook it up to a PC and a flat type A socket to connect addition storage or for use with the optional wireless dongle.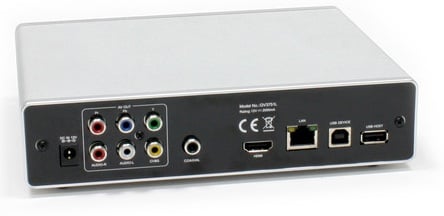 A decent array of connectivity options, HDMI included
Freecom sells the MediaPlayer II in a number of configurations. You can buy it as a drive-less kit to add your own disk to for £115, or you can choose a pre-prepared model with either 500GB, 1TB or 1.5TB inside for £175, £220 and £280, respectively. If you want to be able to connect to it wirelessly, then you'll also need the USB WLAN Adaptor, which will set you back a further £45.
Sponsored: Detecting cyber attacks as a small to medium business