Intel execs shift seats as Gelsinger departs
One business group to rule them all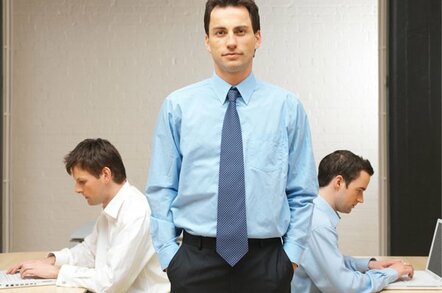 One day after Intel's Pat Gelsinger jumped to EMC, Chipzilla announced a sweeping reorg of its business groups.
The shakeup was revealed in an announcement on Monday that detailed the Byzantine complexities of the new Intel. That unsigned statement also noted that CEO Paul Otellini "will devote a higher quotient of his time to corporate strategy and driving the company's growth initiatives."
All of Intel's major product divisions are to be consolidated under one organizational umbrella, the new Intel Architectures Group (IAG), which will be co-managed by executive vice presidents Sean Maloney and Dadi Perlmutter.
Maloney moves over from his previous position as chief sales and marketing officer, and it will be responsible for the IAG's "business and operations," according to the announcement. Perlmutter, formerly general manager of the Mobility Group, will "lead product development and architecture."
The rise of Maloney to such a lofty position couldn't have been overly heartwarming to Gelsinger, who had spent the past 30 years at Intel, and who had helped guide the division under his command, the Digital Enterprise Group, to a position that contributed more than half of Intel's revenue.
The new IAG will subsume Intel's core businesses, including microarchitecture planning, microprocessor and chipset development, systems-on-chip (SoCs), and wireless. It will also include six sub-groups:
PC Client Group, which will unite the desktop and mobile groups - reflecting the merging of desktop and laptop technologies - and "enable Intel to better scale cross-platform efforts like security and manageability."
Data Center Group, which will handle servers, cloud computing, networking, and high-performance computing (HPC).
Visual Computing Group, which will focus on "advanced visualization products."
Ultra Mobility Group, which will shepherd mobile handheld devices such as smartphones and the fading mobile internet device (MID) market.
Embedded and Communications Group, which will - among other initiatives - continue Intel's move into the medical market.
Digital Home Group, which will tackle the entertainment systems and consumer electronic devices that CEO Paul Otellini touted at an investors' meeting earlier this year.
Out of the labs and down onto the factory floor, Intel's chip-baking Technology and Manufacturing Group (TMG) will remain essentially unchanged, but will now be headed up by chief administrative officer Andy Bryant, who moves over from his position as EVP for finance and enterprise. ®