Ricoh GR Digital III compact camera
For those who take their image seriously
We set the Fn1 button so we could immediately switch between JPEG and RAW formats, and we assigned the flash level adjustment function to the Fn2 button. All settings are saved when the power is switched off. Here is a camera that truly adapts to the user's requirements rather than users having to adapt to the camera's foibles.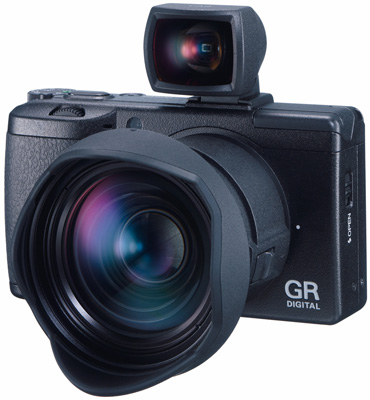 The optional 21mm lens adapter and matched viewfinder with lens hood obscure flash operation
In manual mode, the Adj lever is used to change the shutter speed, while a small dial mounted at the front – which Ricoh calls the up/down dial – is used for adjusting the aperture, it's that simple. The LCD screen is large, clear and bright, although like all LCD screens, it's hard to view in bright sunlight. A shame then, that Ricoh offers an optical viewfinder as an optional extra rather than as standard.
However, one thing we did like was an electronic spirit level display at the bottom of the LCD screen, which tells you whether the GR Digital III is being held straight or not. There are also plenty of focus and metering modes, including Pre-AF, whereby the camera continues to focus even when the shutter is not half- pressed, and Full Press Snap, which lets you pre-set the focus distance – 1m, 2.5m, 5m or infinity.
Whether you prefer to make all the adjustments yourself or are happy to leave the GR Digital III in auto mode, the results will seldom be disappointing. Noise levels were low and hardly noticeable, even at ISO 400. Images were sharp, detailed and clean. Macro shots – which can be taken just 1cm away from the object – were excellent.
The only disappointment was that the auto exposure system was a little erratic at times and shots were occasionally either under- or overexposed. We're not sure whether it was just a quirk of our review sample, but it's something to bear in mind if you ever road test this camera.

As well as the 21mm lens kit (right), extension tubes (left) are available for close-up work
The 28mm lens makes the GR Digital III ideal for landscape and street shots. The lack of an optical zoom will put off some users, but it was only occasionally when we wished we had had a zoom facility, such as when taking shots of animals – we didn't want to get too close and disturb them.
Sponsored: Detecting cyber attacks as a small to medium business