Intel Core i5-750 and Core i7-870
'Lynnfield' performance figures are go
We also tested the overclocked Core i7-940 with Turbo Boost disabled and found that the feature doesn't have much value - its speed increase is marginal. You'll often find that the overclocking fraternity disable SpeedStep and Turbo Boost when they are working with Core i7 to assist stability.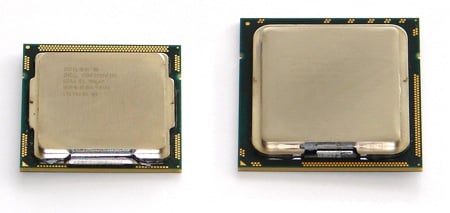 LGA1156 vs LGA1366: on top...
With the Core i7-870, we raised the CPU core voltage slightly along with the DMI voltage. With these settings we were only able to raise the base clock from 133MHz to 150MHz which resulted in a pathetic clock speed of 3.3GHz. We ran the overclocked i7-870 with Turbo Boost on and off, and also with HyperThreading disabled to mimic how a Core i5-770 might perform when Intel gets round to inventing it.
Our results clearly show that both HyperThreading and Turbo Boost play their part in increasing performance, and this is especially clear in the 'All CPUs' test in Cinebench. In an older benchmark, such as PCMark05, the benefit is minimal.
The Asus P7P55D motherboard uses the regular dynamic voltage setting plus an amount that we choose in the Bios. We selected +0.2V and found that our i7-870 would run most of our benchmark tests at 3.96GHz with Turbo Boost and HT enabled. We got better results by disabling Turbo Boost which makes sense as 3.96GHz is way beyond the realms of the maximum 3.6GHz Turbo Boost speed that applies with this CPU.
In addition, it was clear that the stock Intel CPU cooler was at the limit of its performance.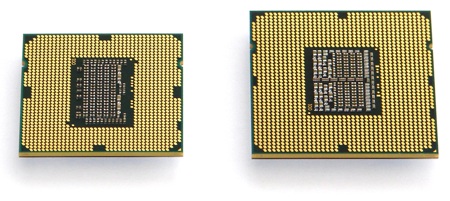 ...and underneath
Finally, a 2.66GHz Core i5-750 was connected to the Asus on the same +0.2V setting. It would overclock to 3.8GHz. The absence of HyperThreading was apparent in Cinebench, but there's no denying this an impressive turn of speed. It also suggests that Lynnfield has the same 1GHz potential for overclocking as the i7-900.
Verdict
We were deeply impressed by the performance and low power requirement of Lynnfield and feel confident that the Core i7-860 - the now-announced slightly slower (2.80-3.46GHz) sibling of the i7-870 we tested - will be the processor of choice through to the end of 2009. ®

Intel Core i5-750 and Core i7-870
Lynnfield is a superb update to Core i7 that decreases the power draw, increases Turbo Boost, simplifies the chipset and keeps the price reasonably low.
Price:
$562 (£273) in batches of 1000. Boxed price approx. £440 RRP

Intel Core i5-750 and Core i7-870
Cheap and overclockable for extra performance, what's not to like about the four-core 750? We can live without HyperThreading at this price.
Price:
$196 (£95) in batches of 1000. Boxed price approx. £160 RRP