Storage hardware crawls out from under melted economy
Software follows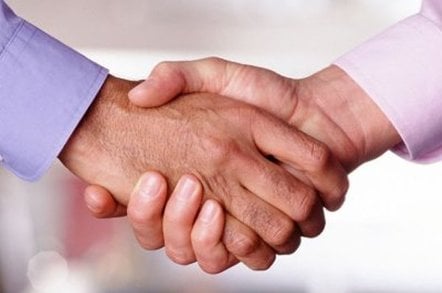 You take the good IT news where you can find it during this economic recession. The relative good news coming out of IDC is that storage hardware sales are starting to show sequential growth at some vendors and that the more profitable storage software biz is starting to recover even if sales are still down dramatically year-on-year.
IDC reckons that the total amount of disk capacity shipped on disk array systems rose by an encouraging 15.2 percent in the second quarter, to 2,345 petabytes. That may be well below the normal growth rates for storage, but that's 2009 for you. Global disk array revenues in Q2 fell by 18.7 per cent, to $5.7bn.
The magnitude of that figure explains why vendors still want to sell servers, which accounted for $9.8bn in the same three-month term. A year ago, over $14bn in servers were sold in Q2, compared to $7bn for storage arrays. The gap is closing, which just goes to show you where virtualization is taking off more and where customers can't wait to get new gear as they most certainly want to do in this economy.
By IDC's math and magic, external disk arrays - meaning sales that exclude the substantial amount of storage sold along with servers, well, at least in a normal quarter - accounted for $4.1bn in sales in the second quarter, down 18.3 percent.
"The enterprise storage systems market continued to feel the impact of current economic conditions, posting its third straight year-over-year decline," explained Liz Conner, research analyst for storage systems at IDC in a statement accompanying the figures.
"However, certain sweet spots in the market continue to thrive. iSCSI SAN and FC SAN both showed strong year-over-year growth of 57.2 and 66.8 per cent, respectively, in the entry level price bands ($0K-$14.99K) as customers continue to demand enterprise level network storage at a more economically friendly price point. Similarly, midrange NAS (price band $15K-$49.99K) enjoyed solid year-over-year growth of 20.7 per cent as file-level data generation continues to be a hot topic for many customers."
IDC said that network disk storage, by which is means NAS devices plus open or iSCSI SANs, fell by 15.3 per cent to $3.2bn.
In overall storage system sales (including external and internal arrays), IBM took the top position just a smidgen ahead of Hewlett-Packard, with $981m in sales compared to HP's $980m. IBM fell 12.6 per cent, while HP, which sells a lot of internal arrays, fell by 28.4 per cent in sympathy with server sales, which declined by 30.4 per cent in Q2 to $2.8bn. EMC ranked third in global storage sales, with $887m in sales and a decline of 19.5 per cent compared to the year-ago period.
Dell did fabulously, with only a 3.6 per cent decline to $769m in revenues, and Network Appliance, with an 8.1 per cent slide to $368m, also did better than the class average. Sun Microsystems did not make the cut as a top five storage vendor and was chucked into the Others category - and there are lots of other storage vendors, despite mergers and acquisitions. The Others accounted for $1.68bn in sales, but as a group, they took a 22.7 per cent hit in Q2.
It is much better to be in the storage software racket, that's for damned sure. Selling file systems, data archiving, storage replication, and various other storage management tools took much less of a hit in the second quarter than storage hardware did. And that stands to reason since companies that already have sophisticated disk arrays want to get more value out of them, even if they have to shell out more dough to do so.
According to IDC's calculations, worldwide storage software sales fell by 9.8 per cent, to $2.8bn, in the second quarter, but they were up sequentially in some product categories, just like storage hardware had some bright spots. IDC says that replication software sales grew by 5 percent from Q1 to Q2, driven by a refocused NetApp, which had 20 per cent growth sequentially for replication products. Data protection and recover software sales for disk arrays saw 3 per cent growth sequentially, with IBM, EMC, and Symantec all moving into positive territory on a sequential basis.
While NetApp ranked only fourth in global storage software sales, with $241m in revenues in Q2, it deserves a prize of some sort for showing positive growth on an annual basis, growing eight-tenths of a percent. (And that growth in Q2 of this year came after a pretty good second quarter 2008 too). EMC took the top spot in storage software sales, with $638m on the books in Q2, but its numbers declined 14.4 per cent, faster than the market at large.
Symantec held the number two position, with $524m in sales, down 11.2 per cent, and IBM was slammed down to $328m in sales in Q2 after an 18.5 per cent revenue decline. (Looks like somebody isn't getting that big bonus now that Big Blue has lost storage software market share). CA rounded out the top five storage software makers, with $116m in sales, down 14.2 per cent. Other vendors, being clever, nearly held their ground on an annual basis, falling only nine-tenths of a per cent, to $886m in sales. ®