India's Reva to pitch 'invisible' e-car reserve battery
Text to tap the back-up 'tank'
Leccy Tech Indian car maker Reva will reveal two new all-electric vehicles at the upcoming Frankfurt Motor Show.
First up will be the NXR, which the firm has billed as a four-seater, three-door hatchback for families. The NXR will go into production during 2010, Reva promised.
Reva's keeping the NXR's technical details close to its chest for now. But assuming the car uses a chassis and drive-train similar to that found in the firm's existing G-Wiz L-ion, buyers could be in for a plastic-bodied quadbike with a maximum speed of 50mph and a 75-mile range.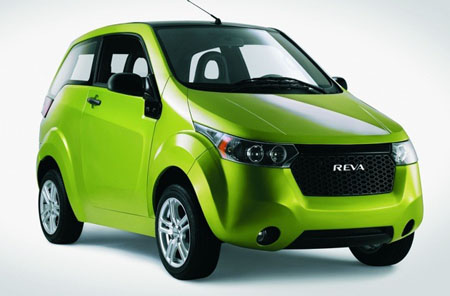 Reva's NXR: will feature an "invisible" reserve fuel tank
The NXG is scheduled to arrive in 2011. It's a two-seater sports car with removable top.
As with the NXR, Reva's keeping mum on the NXG's technical specifications. But we don't think the folk over at Tesla will suffer too many sleepless nights for fear of the competition.
Reva said it has also set about tackling anxieties about e-car range. it will launch REVive, described as an "invisible reserve fuel tank".
Based on "telematics technology", the system will apparently allow customers to phone or text Reva for an instant remote recharge.
Assuming the firm hasn't devised a way of sending a suitable electrical charge over a cellular network, REVive probably means that the vehicle's battery pack retains a reserve charge that can only be unlocked remotely by Reva HQ.
We have to say, we think it would be better simply to give the driver direct access to the reserve, tapped by tapping a button the dash, say.
Both the NXR and NXG models will feature the REVive system, Reva said.
Exact details about the REVive system, along with with prices and technical specifications for Reva's two upcoming leccy models, will be made public at the car show next week. ®