Samsung YP-Q2 v. Sony E-series deathmatch
Sounding out two top 8GB media players
Head-to-head With the market for mid-range MP3 players never having been more competitive, seeing Sony and Samsung fight it our for advantage is like watching two wannabe WAGs scrap over a premiership footballer who is rumoured to be hung like a horse and has a Manchester City transfer cheque in his pocket.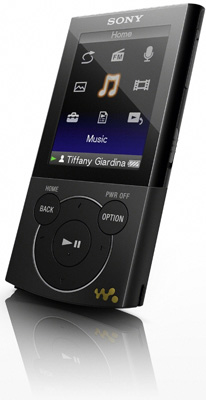 Sony's Walkman E444: the better looking of the two
So with both Sony and Sammy releasing new media players with similar specifications at the same time and at virtually the same price Register Hardware thought it would be a good idea to review them together. Another reason for doing so is that both devices are direct replacements for media players that we reviewed towards the end of 2008: the Samsung Q1 and the Sony NWZ-E436F.
Sammy's Q1 was a player that didn't really impress us. The controls where a horrible example of design taking precedence over function and, try as we might, we couldn't get the thing to show up on the desktop of either a Linux box or a Mac. On the plus side, it sounded good.
Thankfully, this time round, Samsung has reconsidered the controls. We're still not convinced a wholly flat, smooth and solid touchpad is the best way to control a media player. Still, the Q2 does what you expect it to when you touch any of the seven controls.
Of course, being touch-sensitive, the slightest inadvertent knock or tap can interrupt playback. This can become annoying if you keep forgetting to lock the player's controls before slipping into your pocket.
There has never been much wrong with the controls on Sony's media players. OK, they may be a bit, what's the word? Oh yes, 'ugly'. However, they are very well laid out and largely idiot-proof. Indeed, the E444's controls are even more idiot-proof than usual.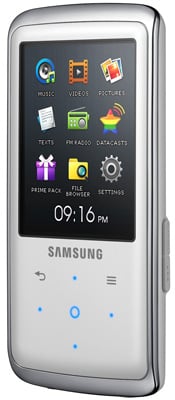 Samsung's YP-Q2: the one that supports the most media formats
Sony has increased the size of the circular navigation rocker by about 50 per cent over the previous E-class models. This has been achieved by the simple and visually rather satisfying ploy of letting the Back/Home and Option/Power buttons take a chunk out of the navpad.
Sponsored: Practical tips for Office 365 tenant-to-tenant migration