VMware lures SMBs with free treats
The fastest growing virt market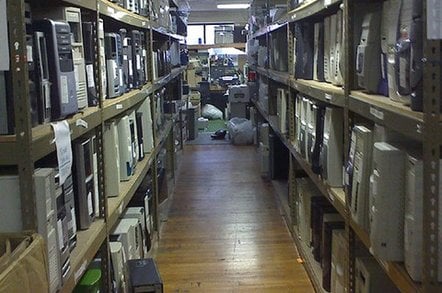 VMworld Small and medium businesses (SMBs) are aflocking to virtualization in droves, according to Joe Andrews, VMware's group manager of product marketing for, yes, SMBs.
Acording to Andrews, who sat down with The Reg on Wednesday at the VMworld conference in San Francisco, VMware defines SMBs in the Americas and Europe as having 1,000 employees or fewer, with "small" being 500 or fewer and "very small" being 100 or fewer. Cut those numbers generally in half for the company's Asia and Pacific SMB definitions.
And it's the littlest guys that Andrews claims are clamoring to become customers. "When we look at market adoption of virtualization in SMB, the fastest growing segment for VMware is in the under-100 group. We publicly say that we have 150,000 full customers - customers using VMware Infrastructure 3 or vSphere - and the majority of those are SMBs."
Andrews cited a report by Forrester Research that projects that 50 per cent of SMBs will embrace vitualization in the next 12 months. And he claims that the reason is simple: "Take a 20-server company. You could save $200K over three years just from the server consolidation, and have a one-month payback. What other IT projects can you say that about?"
When asked, however, if the company's Virtual Desktop Infrastructure (VDI) was getting a foothold in the SMB space, Andrews answered" "Not yet. The majority of the adoption for VMware in SMBs has been for server consolidation."
What about the company's new free Web-based, hosted VMware Go management tool, a beta focused on getting a handful of free ESXi servers up and running locally? Essentially, it's a marketing tool to entice SMBs to drive virtualization around the block before they commit to buying their way into the VMware customer base. And, of course, to keep them out of the XenServer and Hyper-V camps.
"We see it as an on-ramp," Andrews said of the VMware Go service, comparing it to the company's internal/external virtual-datacenter vCloud Initiative.
But not every SMB can benefit from virtualization, according to Andrews. When asked about content creators in the motion-graphics, video, or pro-level audio spaces, he told The Reg: "You really needled-in on the one area where it may not make sense to virtualize." But he parried with: "For 90-plus per cent of applications that any business in any industry is going to run, virtualization is really a proven technology."
As we wrote yesterday, VMware is becoming the new (old) Microsoft, not only in overarching reach, but - as we learned from Andrews - in an unshakable ability to stay on message. ®