Twitter tracker goes twotspotting
But don't call it that
Geome uses the location information already attached to many tweets to provide a geocentric view of twitter, enabling you to find out who's twittering locally, and avoid them.
It's just the kind of service that's supposed to be enabled by Twitter's new location API. But given that many mobile clients - and the web service - already record location information, developer Bob Hitching showed typical Web 2.0 patience and put a working app together himself. It was initially called TwotSpot, but it was rapidly renamed Geome to preserve marital peace.
The Geomeme interface allows you to select two search terms, and tweets from the selected area are screened to see if they contain either term and then scrolled down the appropriate side of the screen.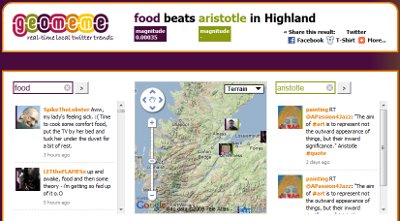 Food more popular than philosophy, who'd have thought it?
Quite why one would want to do this remains a mystery, unless you're planning on linking it to the Ground Guidance sat-nav product for route planning specifically designed to avoid the twitter of tiny thumbs. ®