Russian prez launches YouTube channel
Turn on, Kremlin, tune out
Joining the Pope, Barack Obama, Gordon Brown, and five billion teenagers lip-syncing to terrible pop music, Russian President Dmitry Medvedev has launched his own channel on YouTube to reach a more youthful audience.
YouTube's 'all Kremlin, all the time' channel rollout comes at the same time as Russia's nationwide "Knowledge Day" and the start of a new academic year. Medvedev's first video congratulates students on returning to school and urges ethnic harmony amongst the country's diverse population. (You can watch an English-language translation of the video here, via Russia Today.)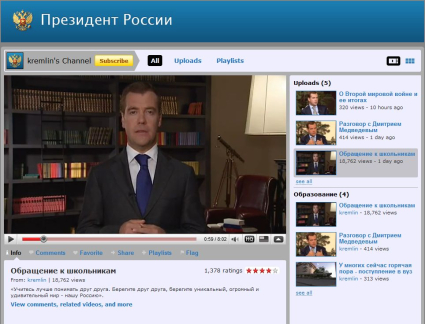 Never feed a Kremlin video after midnight
"YouTube is very popular, and we hope to increase our audience through it not only by reaching out to the users of the Russian segment of the Internet but also the Russian-speaking Internet users in other countries," a Kremlin spokeswoman told the Russian news agency ITAR-TASS.
While Medvedev's patriotic address to school-aged tots is one of just a handful of videos available on the site now, the Kremlin plans to upload more original public messages from Medvedev as well as clips of his speeches. ®