Japan gives the wheelchair a hi-tech overhaul
GPS and obstacle-avoidance on board
A Japanese firm has developed a hi-tech wheelchair that's able to avoid obstacles and find its way around - while being more comfortable for the passenger.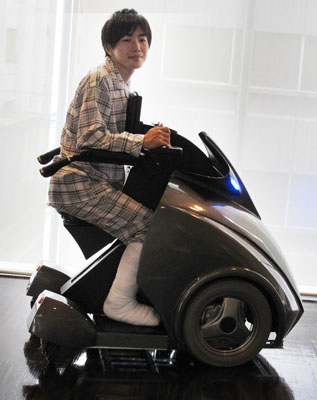 Rodem: a sort of high-tech wheelchair getting around on
Pictures: TechOn
Rodem – roughly translated as Robot for Enjoying Mobility, TechOn reports - is a universal vehicle designed to help people move more freely and with greater independence, according to developer Veda International Robot R&D centre.
Designed in response to the world's growing number of elderly people, riders mount Rodem from behind (sic) and lean against padded knee and chest rests which, Veda said, makes for a more comfortable ride, especially for folk who spend a lot of time sitting in it. It's also easier for carers to help the passenger in and out of the hi-tech chair than ordinary wheelchairs.
Measuring 1220 x 690 x 1170mm, Rodem can move at three different maximum speeds: 6km/h, 3.5km/h or 1km/h. Reverse movement is always limited to no more than 3kmh.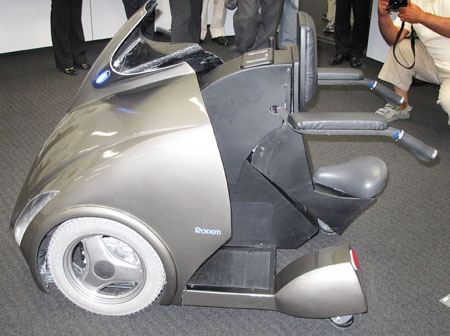 On-board GPS helps you find your way
A sealed lead-acid battery powers the leccy wheelchair and disabled – or just plain lazy – users will get about four hours' travel time before a recharge is required.
A joystick controls Rodem's two-wheel drive system, but the chair can also be controlled by voice commands from the driver.
Rodem's other tech travel treats include automatic controls for driving up slopes, on-board GPS and autonomous navigation. The chair's also able to prevent you from accidentally driving into walls or small children.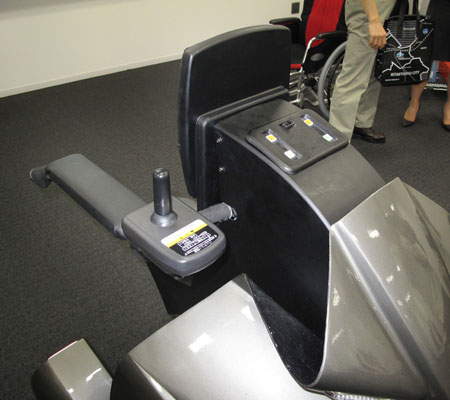 Rodem could be on the market next year
Veda is still on the lookout for business partners willing to help it mass-produce Rodem, which the firm hopes to have on the market within 12 months for between ¥500,000 and ¥700,000 (£3274-4500/$5330-7400/€3713-5100). ®