x86 Server virtualization still work in progress
Good start, but it's not all plain sailing
Workshop Poll Results While x86 server virtualization is now widely accepted as an important part of IT activity looking forward, the results of our recent workshop poll of Reg readers suggests that it is still early days when it comes to implementation.
As with all online polls, the respondents (301 for this one) were 'self-selecting', which means that the data collected represents a proportion of those with a particular interest in or knowledge of the topic. What we are looking at at therefore represents the 'best case' in terms of progress. Given that over 90% had some experience of x86 virtualization, however, the good news is that the feedback we received was far more likely to be informed, rather than based on guess work: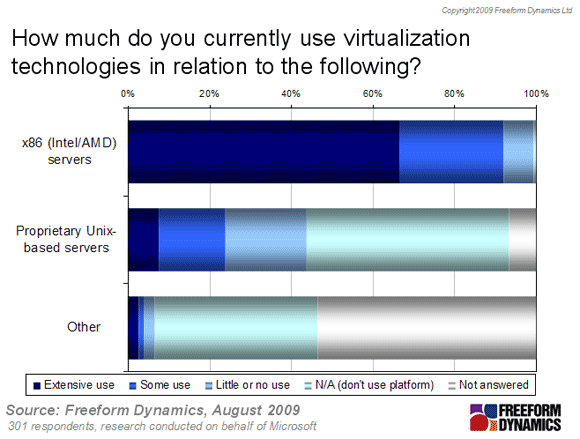 So what did we learn from the responses? To begin with, it is pretty clear that one of the major problems virtualization is envisaged to tackle, that of server proliferation, is very real. Over 85% acknowledged it overall, with only a third of the sample reporting that it was under control: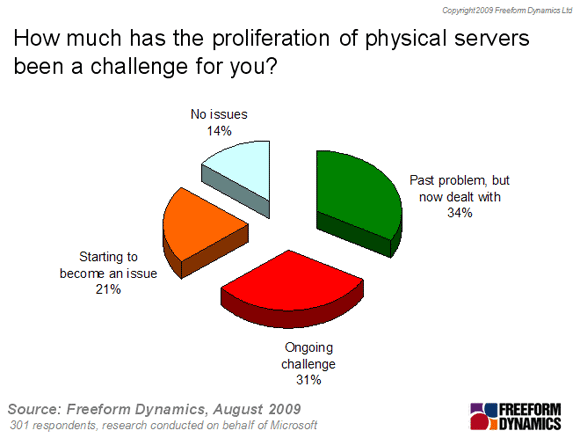 Why has server sprawl become such a widespread issue? The first cause that springs to mind concerns the traditional dependencies that have existed between applications and the platforms upon which they sit. A familiar challenge is how each application requires the underlying systems stack to be configured in a particular way, which is typically different to other applications. So too, is the problem of applications conflicting at execution time and interfering with each other in terms of performance or stability. These physical dependencies offer one of the main reasons why each application has traditionally lived on its own, dedicated server.
Sponsored: Becoming a Pragmatic Security Leader