Panasonic DMR-BS850
Freesat+ Blu-ray recorder with nearly all the trimmings
Review At first glance, Panasonic's DMR-BS850 Freesat+ Blu-ray recorder is essentially identical in appearance to the DMR-XS350, it's DVD version we reviewed recently. Actually, Panasonic offer two Blu-ray models with the £1000 DMR-BS850 featuring a 500GB hard drive, while the DMR-BS750 has 250GB drive and an £800 price tag. Shop around is all we can say to that.

Panasonic's DMR-BS850: Blu-ray recording for the HD enthusiast
Compared to the DVD recorder, these twin tuner Freesat+ machines feature HD recording onto Blu-ray discs. Lest we forget, the blue light on the front panel to let people know you have something fancy on the sideboard. This also illuminates to indicate when an SD card is in the slot but, mercifully, can be extinguished too.
One other minor difference is that the VieraCast facility is a little more feature-rich than that of the DVD version, adding weather, Bloomberg market information and the Tagesschau German news service to the Picasa and YouTube offerings included on the DVD model. Annoyingly, there's a chirp from the audio with each keypress when you're using VieraCast on these units, and unlike on Panasonic's TVs, you can't turn it off in the options.
In terms of connectivity, case design and basic functionality there's no major difference between the Blu-ray and DVD recorders – so rather than re-hash it all here, take a look at the DMR-XS350 review for our thoughts on the interface and day to day usage.
The remote control is pretty much the same, but with the additional Direct Navigator label on one of the buttons. This gives access to the contents of the various drives, is also used to call up the pop-up menus for a Blu-ray movie.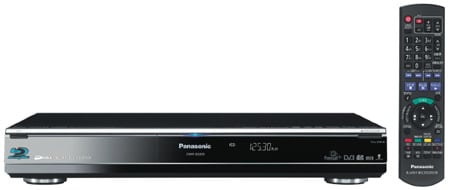 Existing DVDs are upscaled for HDTV playback
Movie playback is straightforward, though it takes a while to load Blu-ray discs. With a compatible display, you can watch films at 1080p24, and your existing library of DVDs will be upscaled on playback, with displaying impressive quality at 1080p. The Ethernet port on the rear means that there's also support for BD-Live, should you have any discs that offer it.
Sponsored: Becoming a Pragmatic Security Leader