UK cops eye shotgun cartridge Taser
'eXtended Range Electronic Projectile' a bad mofo
The Home office has confirmed it's eyeing the Taser eXtended Range Electronic Projectile (XREP) for possible deployment with UK police forces, the Guardian reports.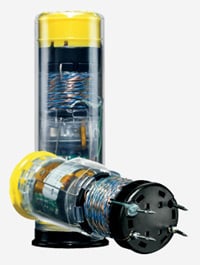 Taser describes the XREP as "the most technologically advanced projectile ever deployed from a 12-gauge shotgun".
The company elaborates: "It delivers a similar Neuro Muscular Incapacitation (NMI) bio-effect as our handheld TASER® X26™ ECD, but can be delivered to a maximum effective range of 100 feet (30.48 meters), combining blunt impact force. The battery supply is fully integrated into the chassis and provides the power to drive the XREP projectile engine."
Taser co-founder Rick Smith told reporters last month at the US roll-out of the XREP: "It's a bigger projectile to reach out to extended ranges. It's moving faster; it's going to, potentially, cause a much bigger bruise, contusions. It's going to be a pretty bad thing."
Those unfortunate enough to be at the receiving end of an XREP will suffer "autonomously generates NMI for 20 continuous seconds" - something which doesn't much impress Amnesty International, which expressed "serious concern" over the weapon.
Oliver Sprague, the campaigning organisation's UK arms programme director, said: "This is effectively a shotgun that fires electric-shock bullets. Because this bullet can be fired wire-free from a standard shotgun there is a heightened risk of causing serious injury to the face and head.
"We're also concerned by the fact that these weapons will deliver an excruciatingly painful shock for 20 seconds. Amnesty would be very alarmed if the Home Office were to consider authorising this weapon to police officers in the UK."
Taser spokesman Steve Tuttle responded that the XREP would cause "less pain when it hit than other 'less lethal' impact munitions and was a safer way to immobilise someone than shooting them with live ammunition".
He explained: "The premise behind the XREP is not to cause or impart physical pain, it is to cause incapacitation. I'm not saying this is risk free: it will leave potential bruising and it could cause a contusion. But when you compare it to a traditional impact munition it will be significantly less likely to cause injury and much more accurate."
Whether belligerent UK crims will eventually enjoy the XREP experience remains to be seen. A Home Office spokesman said: "The Home Office Scientific Development Branch are considering it as part of their ongoing remit to evaluate new less lethal technologies."
Taser's XREP demo video is right here. ®
Sponsored: How to get more from MicroStrategy by optimising your data stack