Storm 2 gets 'spongy' touchscreen
BlackBerry flagship has Piezo-based screen, claims blogger
Research in Motion (Rim) has redesigned the Storm smartphone's screen to provide an improved touchscreen experience, an anonymous blogger has claimed.
Can't see the video? Download Flash Player from Adobe.com
The original Storm's touchscreen worked liked one big button, physically moving down one or two millimetres each time it was pressed. Some users, especially texters, disliked this feature because waiting for the screen to move down and then up again while tapping messages slowed the process down somewhat.
But in a recently released Storm 2 demo video a blogger claims that the lastest model's screen is based on piezo electronics – which he likens to pressing your finger down on a sponge - allowing the phone's four dedicated buttons – place call, end call, etc – to be integrated into the display.
As you will notice in the video, the second-generation smartphone's display doesn't physically move up and down as a result of the redesign. This, the blogger claims, also results in greater responsiveness and improved texting support.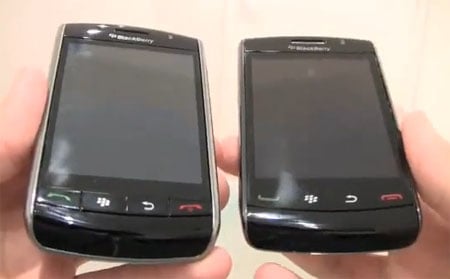 Buttons on the Storm 2 (right) are integrated into the phone's touchscreen
The blogger also states that the Storm 2 supports Wi-Fi – a claim supported by another anonymous blogger earlier this month.
Rim hasn't said when the Storm 2 will be officially launched, but many believe the smartphone's unveiling could come in October. ®