Mitsubishi iMiEV five-door e-car
Genuinely fun to drive
Hard acceleration is accompanied by a distant whine as the electric motor starts spinning up to its 8500rpm maximum. The whine is never intrusive or annoying, rather it just lets you know that the motor is about its business while also giving you a handy aural reference for your acceleration.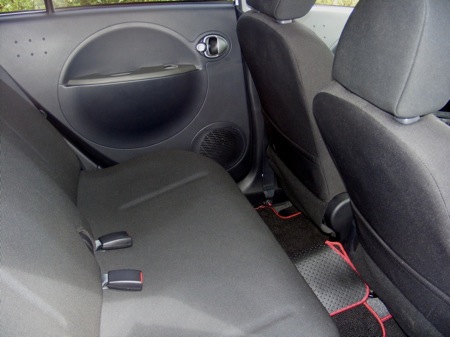 Passengers or luggage - the choice is yours
Motor whine notwithstanding, the iMiEV is as peaceful and relaxing a drive as you are likely to find in this class of car. Yes, road noise is more noticeable than in many cars but this is more a result of there being no engine noise to drown it out than of the iMiEV being in any way unrefined.
Back to greenness, the iMiEV's Eco setting restricts the motor to 18kW rather than the maximum 47kW. Moving from Drive to Eco does have a noticeable impact on performance but the car is still very drivable.
During a brief excursion down a B-road, we got stuck behind a pensioner in a 1.1l Ford Fiesta. With no hope of overtaking, we slipped the lever into Eco and settled in for the duration. Despite some pretty severe inclines the iMiEV was easily able to keep up with the flow of traffic. The 18kW on tap in Eco also proved more than adequate for pottering around Cirencester town centre.
Below Eco is B - for braking. Put the selector here and the regenerative braking effect is cranked up to maximum, unfortunately making it more or less useless unless you're driving down a very, very steep hill.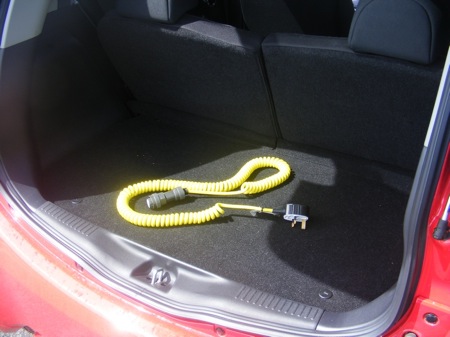 Enough boot space for the charging cord - and not a lot else
We reckon Mitsubishi has over-egged the pudding on this one. If you move the selector into B while heading down a 20 per cent incline, the power use needle heads deep into the blue zone, but the system still actually slows you down so much that you have to either move from B back to Eco or Drive or use the accelerator to keep your speed up. Of course, doing the latter negates the point of putting the car into B to start with.
Sponsored: Detecting cyber attacks as a small to medium business