Open Rights Group chief in privacy scandal
Data breach claims denied by Green Party
Updated (see footnote): The Open Rights Group campaigns against privacy violations and highlights data security lapses - but controversy has arisen over a dispute involving ORG executive director Jim Killock's previous role, as communications co-ordinator and national executive member of the Green Party.
A report in the Guardian's gossip column claims that Killock has been suspended from Green Party membership for five years, and also claims that the Party believes that he broke its rules by distributing personal data on members in the course of a party referendum.
Both the suspension claim and the allegation of data breaches have been disputed by Killock and by the Green Party. The latter denies that it made such allegations, and that Killock has been suspended. A statement issued on behalf of Jim Killock says: "I left the Green Party in September 2008. There were no data leaks and the Green Party has not made any such allegation. The Green Party has not expelled me or banned me from returning."
There was however considerable acrimony within the Green Party over the referendum, which was organised to vote on the proposal to adopt a single leader. Personal details of 7,000 members were published, The Independent reported.
"This and similar murky dealings left a bad taste at the time," writes author and former Green Party principle speaker Derek Wall, referring to "the excesses of the Jim era."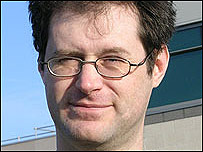 Jim Killock
But in a statement William Heath told supporters that bygones should be bygones:
"ORG decided to give no comment for the Guardian piece. Jim had given a pretty full and entirely satisfactory explanation, we felt he had behaved responsibly and legitimately, and we saw no merit in giving legs to a non-story... In my final Board meeting as Chair on 15 Sept I do not propose to recommend we put more effort into investigating or responding to this."
He also asked supporters to "...bear in mind the limitations of email lists as a way to open up delicate matters which affect others' jobs and public reputation, and also ORG's own reputation and effectiveness."
It may be a little late for that, since Heath made the posting on a public, open-to-all mailing list. His plea for muteness drew several puzzled replies. Heath had addressed "ORG members", but the ORG doesn't have any members - or a membership. Instead, "supporters" can make donations, but cannot set policy, or elect executives. ®
This story has been updated following our receipt of statements from Jim Killock and the Green Party. According to the Greens: "There have been inaccuracies in reporting. The Party did not make the allegations indicated in The Register, nor was Mr Killock suspended by the Party." We accept that any allegations concerning the leadership referendum were not made by the Green Party, and accept its assurances that Mr Killock has not been suspended.
Sponsored: How to Process, Wrangle, Analyze and Visualize your Data with Three Complementary Tools