BlackBerry maker dials in to watchphones
'Anything LG can do, we can do better'
Research in Motion clearly isn't happy with LG's upcoming GD910 watchphone stealing the limelight. The BlackBerry maker has also announced plans to make a branded wrist accompaniment.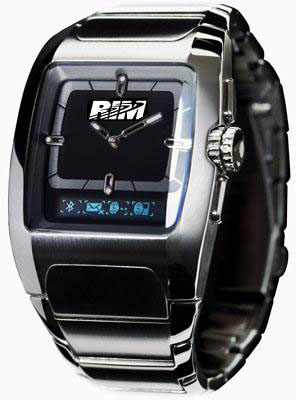 The Rim Alpha 1 watchphone, supports voicecalls - but not videocalls
Unfortunately – judging by the picture – it doesn't look like the Alpha 1 will support videocalls, but Rim executive Antoine Boucher has promised to build in a solid selection of features alongside the watch's analogue dial.
For example, Alpha 1 will include noise-reduction technology to ensure that voice clarity is always "crystal clear" when you are making or receiving calls.
The watch will also allow you to stream music to it from your BlackBerry and, much like Sony Ericsson's existing MBW-150 phone-connected watch, will use Bluetooth to alert you to texts and incoming calls.
The Rim staffer also promised that the watch will keep you updated on Twitter and Facebook posts.
A price or launch date for the Alpha 1 hasn't been announced. ®