Best Buy demos Dell netbook running... Mac OS X
Unofficially, natch
Clearly uninspired by Windows XP Home, one Best Buy staffer slapped Mac OS X on one of the chain's demo Dell Inspiron Mini 910v netbooks, if pictures posted on the internet are to be taken at face value.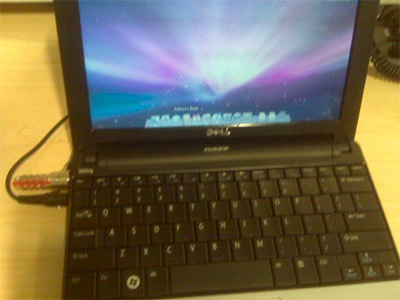 Best Buy's hackintosh netbook (allegedly)
Source: Gizmodo
Whether snapped by a vistor to the shop, the Best Buy employee that allegedly did the deed, or by a hoaxer intending to do the dirty on the retail giant isn't clear from the shots posted by website Gizmodo. There's what looks like a BB price label, but nothing to indicate for sure it's in a BB store.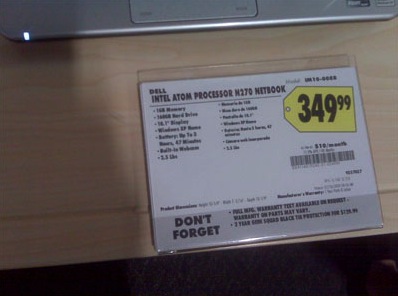 Look like a Best Buy label
Source: Gizmodo
That said, the site indicated it knew the hackintosh's home store, and with PC sales down thanks to the economic downturn, it's entirely possible that some Best Buy staffers have sufficient time on their hands for this kind of jiggery pokery.
And wouldn't you rather have a 10in Mac OS X netbook for $350 (£212/€247) than a Windows XP machine? Come on, Dell, make Steve an offer he can't refuse... ®