GM Volt to deliver three-figure fuel economy
Officially, 230 miles on a US gallon of fuel
Leccy Tech A rather curious advert featuring the number 23 and a smiling power socket has appeared in North America over the past few weeks. Until today, nobody knew what it meant.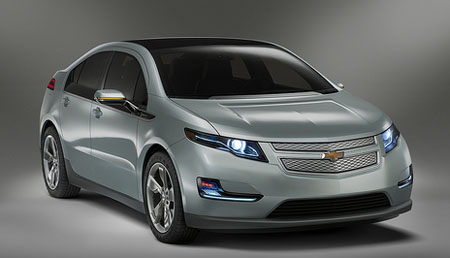 GM's Volt: first three-digit fuel economy rating?
During a webcast today, General Motors' President, Fritz Henderson, explained that 230 is the official miles-per-gallon urban fuel economy rating for the upcoming range-extended hybrid Chevrolet Volt. That's 276mpg in Imperial units, by the way.
Either way, it's the first time a car has gain a three-digit fuel economy rating.
The figure – apparently a first of its kind for a vehicle of this type – comes courtesy of the US Environmental Protection Agency's (EPA) newly developed testing methodology for such cars.
Plug-in hybrids will go for a certain distance – 40 miles in the case of the Volt - on battery power before a small internal combustion engine fires up to drive a generator that, in turn, recharges the battery pack and powers the electric drive motors.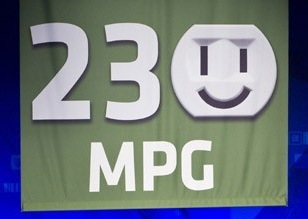 The EPA urban scheme assumes low-range driving - school runs and the like - ensuring plenty of opportunities to top up the battery off the mains overnight or while the owner's at work.
GM didn't say what the Volt's highway or combined fuel economy figures are but Henderson did say he expects the latter to stretch to three digits, so that's 100 miles per US gallon at the very least. ®