Mixed fortunes for Hitachi disk division
The bitter platter of HGST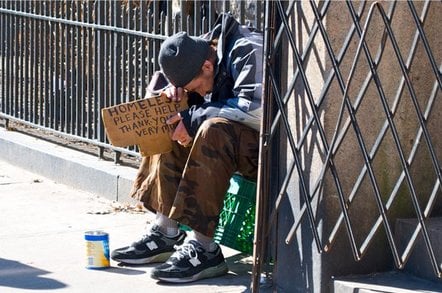 A profitable 2008 for Hitachi has been followed by a miserable 2009, with two loss-making quarters and a possible fall behind in the areal density stakes.
In April last year, and after much high-level debate within Hitachi, it was decided that Hitachi GST would remain as part of Hitachi, not be sold off in whole or part, and have its fortunes rebuilt by its own internal efforts. HGST was formed in 2003 when Hitachi absorbed hard disk drive (HDD) manufacturing facilities from IBM. There were prolonged difficulties in realising a profit from the combined venture, leading up to discussions with a venture capital fund, Silver Lake Partners, for a partial sell-off in return for a capital injection. After a couple of quarters of profit in the second half of 2007, Hitachi backed out of this and decided to go it alone with Hiroaki Nakanishi as its chairman and CEO.
What followed was its reward: four quarters of profit in 2008 (see chart below) accompanied by bullish marketing statements about competing with industry leaders, including number 2 Western Digital and number 1 Seagate, both also profitable. It also made noises about areal density expertise - the industry is in a never-ending race to increase areal density and so both increase HDD capacity and lower cost/GB.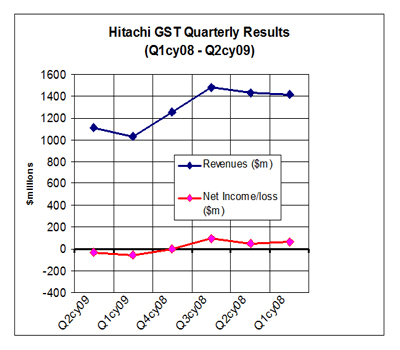 Then the recession hit, and the fourth quarter of 2008 showed a substantial profits drop, from an estimated $85m in the preceding quarter to just $4m.
Executive changes
This was followed by executive changes in the first quarter of 2009. Steven Campbell was appointed as Chief Technology Officer in January 2009, with global responsibility for all aspects of the company's product development and technical vision. In February chief financial officer Stephen Milligan was promoted to President, whilst keeping the CFO role and remaining at the company's San Jose, California headquarters.
Hiroaki Nakanishi remained as chairman, but also became an executive VP at parent Hitachi, Ltd. responsible for the Hitachi Group's global strategy. There was no official full-time Hitachi GST CEO.
Another executive left Hitachi GST; Shinjiro Iwata, an Executive Vice President became CEO of Service and Global Business for the Information and Telecommunication Systems Group of Hitachi, Ltd. There was also an incoming executive, Masaya Watanabe, who joined Hitachi GST as its Chief Strategist of Data Storage reporting to Steve Milligan. He came from Hitachi's enterprise server division.
The first calendar 2009 quarter was poor. Revenues fell to £1.026bn from the previous quarter's $1.252bn and there was a net loss of $57m plus a fall in HDD unit shipments to 19.2m from the previous quarter's 22.26m.
The next one was slightly better. Revenues rose slightly to $1.109bn and there was a loss again, but a smaller one at $32m. The glory days of 2008 are becoming a distant memory. The recession hit Western Digital and Seagate even harder, with plant closures, headcount reductions and, in Seagate's case, executive changes at CEO and direct report levels.
Revenues and income fell at Hitachi GST but it kept on expanding. It bought SimpleTech earlier this year, to gain external drive capabilities and released two products in July. There was the SimpleTOUGH portable USB drive, a colorful SimpleDRIVE Mini portable USB drive, together with a SimpleNET network storage adapter for sharing USB drive content over a home or office network.
Hitachi GST also expanded its product capacity by buying an unwanted WD aluminium platter plant in Malaysia at the beginning of July.