Second-gen Sharp Aquos sets unveiled
Sharper screens and integrated Blu-ray
Sharp has updated its Aquos DX TV series with the introduction of 13 sets offering high-tech displays, easier-to-use features and, of course, integrated Blu-Ray Disc recorders.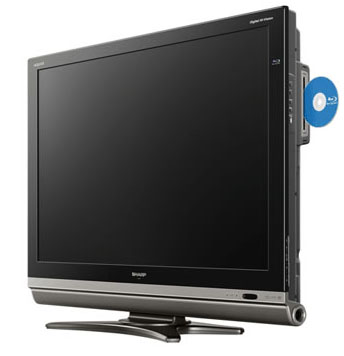 Sharp's second-generation of Aquos DX TVs: top-end
The range has been around since November last year, but the "second-edition" 26in, 32in, 40in, 46in and 52in models offer 7x extended HD video recording – allowing for prolonged recording time, "while retaining the same exact full-HD quality as the original high-definition broadcast", Sharp said.
To boost the on-screen display, Sharp's enabled each set to automatically set its image and sound to match the surrounding brightness, type of content being watched and even specific programme scenes.
Depending on which size screen you opt for, you'll either be treated to 1,366 x 768p or 1,920 x 1080p resolutions.
A 'Home' button on the remote control allows users to control a vast array of on-screen guides, Sharp promised.
Each of the 13 models boast Ethernet internet connectivity, so Sharp's introduced a Motion Guide setting enabling users to simultaneously watch one channel while selecting another program on TV, the internet or recorded on Blu-ray Disc.
Sets will be available in various body colours, including black, white, and red, from next month in Japan. UK launch dates haven't been announced. ®