Kodak Easyshare M420
Can a cheap camera ever deliver killer shots?
Noise was an issue, even at low ISO speeds, and images were soft. Many shots seemed to have too much digital processing applied to them. Indeed, in Smart Capture mode, the Easyshare M420 automatically applies Kodak's Perfect Touch picture enhancing technology and the results look artificial. The macro setting did not offer close-up shooting – we couldn't get any closer than 15cm to our euro coin and even then, the results were not great.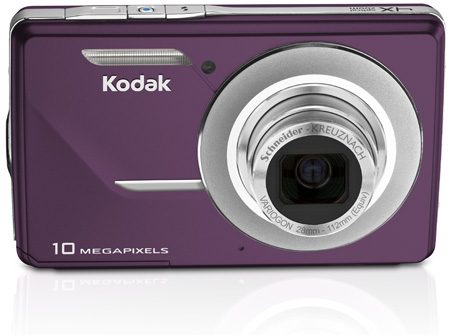 Plenty of features, but it is a budget camera and it shows
The burst mode is a poor person's continuous shooting mode, offering just three frames, and we are scratching our heads as to why Kodak has included long time exposure on a camera of this type. Even when using the shortest exposure time of half a second in this mode, daylight images were completely bleached out and there is no way of manually adjusting the aperture. We tried tweaking the exposure compensation control, but that had no effect.
It wasn't all bad. The wide angle lens and the 4x optical zoom are good to have on a camera at this price point. The backlight function, designed for shooting subjects with a strong light behind them works well, although the resulting image looks a tad harsh. We also liked the panorama feature, which stitches together two or three images in-camera.
Verdict
Add the so-so performance to the handling issues and it's hard to get enthusiastic about this camera. Sure, it's cheap, but as the saying goes, price isn't everything. On the plus side, the Easyshare M420 is very portable, has a wide angle lens and will do all the thinking for you, if that's what you want. But Kodak seems to have put looks over handling when it comes to the ergonomics, and we have seen better results from other budget models. ®
More Compact Camera Reviews...

Nikon
Coolpix S630

Canon
Digital Ixus 95 IS

Samsung WB500

Panasonic Lumix
DMC-FS7

Kodak Easyshare M420
Inexpensive and compact with a useful wide angle lens, but performance and handling let it down.