Kodak Easyshare M420
Can a cheap camera ever deliver killer shots?
The Easyshare M420 is nice to carry around but its handling is not so great. There's the layout of the top three control buttons for a start. These are used for setting the flash mode, power on and off, and to operate the shutter. The three buttons are small, have the same silver colouring and are packed close together, making it difficult to determine the right one to press.

Finger trouble: indistinct buttons take some getting used to
A number of times we tried powering up the Easyshare M420 only to find that our finger was in fact pressing the shutter button. Just below this array is a tiny slider for selecting Smart Capture mode (aka Intelligent Auto), video and scene modes and here too, we often found ourselves selecting the video when we really wanted the scene modes. Power on is slow and the Easyshare M420 takes around six seconds to get up and running. It takes roughly the same time to power down as well.
In the Smart Capture Mode, the Easyshare M420 does everything for you, except, it seems, press the shutter. In this mode, the camera analyses the scene and sets the parameters – users can select the picture size and aspect ratio and that's about it. The scene mode offers 22 settings that include program, landscape, backlight, portrait and panorama. These are selected with a multi-controller and central OK button, and the scene mode menu helpfully includes icons and text descriptions.
The menu system content depends on the shooting mode but, in program mode, for example, you can use it to adjust thirteen parameters including exposure compensation, focus mode, white balance, exposure metering options and AF zones. The set-up menu offers the usual settings including, sound and LCD screen brightness, however, in playback mode, there's an additional menu for editing images, such as cropping.
In some shooting modes, pressing a small info button puts short-cut icons on the LCD screen. Apply this in program mode and you can get icons for adjusting exposure compensation, self-timer and AF mode. It won't take users too long to get to grips with using the Easyshare M420, but the tiny buttons, clunky menu system and general sluggishness do not make this the friendliest of cameras to use.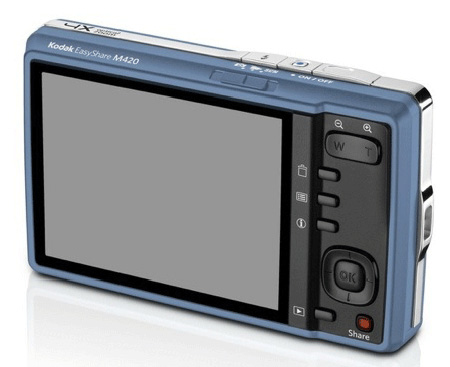 Various shortcuts help minimise menu browsing
At £170, the Easyshare M420 is up against some strong competition, but there are some good deals if you shop around. Even so, at this price point, you are not going to get the ultimate in performance, but we were, frankly, underwhelmed with how the Easyshare M420 fared.