GM hybrid SUV planned for 2011
A Buick, but not as you know it
Leccy Tech General Motors (GM) has claimed that, come 2011, it will become the first car manufacturer to launch a plug-in hybrid SUV in North America.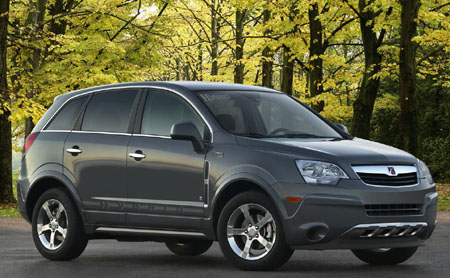 GM's Saturn Vue hybrid (above) could influce the 2011 hybrid Buick's design and drive
Since crawling its way out of bankruptcy, GM has begun outlining its e-car future in areas other than the range-extended series hybrid Volt.
And first out of the gate will be a mid-size, Buick-badged, plug-in parallel hybrid SUV - somewhat similar to the planned Saturn Vue Green Line 2 Mode hybrid, first seen at the 2008 Detroit Motor Show.
The North American car industry has imploded since 2008, though, with GM later announcing plans to wind down its Saturn division - hence the Buick badge on it latest hybrid SUV.
While the Buick doesn't yet have an official name, GM said that the vehicle will have a 3.6L V6 petrol engine and an 8kWh lithium-ion battery pack - the latter of which it'll be possible to recharge from the mains.
The Buick's two 55kW electric motors will be able to propel the vehicle for around 10 miles at "low speeds", GM claimed, without the assistance of the V6 petrol engine. When the petrol engine kicks in, the leccy motors will use energy from regenerative braking and the engine to improve driving performance and reduce fuel consumption.
The hybrid Buick will still be capable of hitting 60mph in under 7.5 seconds, GM stressed.
GM's keeping mum about the Buick's likely cost, for the time being. However, since GM and Opel are about to go their separate ways in Europe, it's possible that a right-hand drive vehicle with a similar drive train could later appear in Blighty. ®