Exotic star's 'violent ejections' during companion's visits
Blue performer left pale, grubby by energetic episodes
Pic Astronomers have released imagery of an "exotic" star which spurts out "regular ejections of matter" every few decades. The scientists theorise that this is caused by occasional interactions between the star and a longtime companion.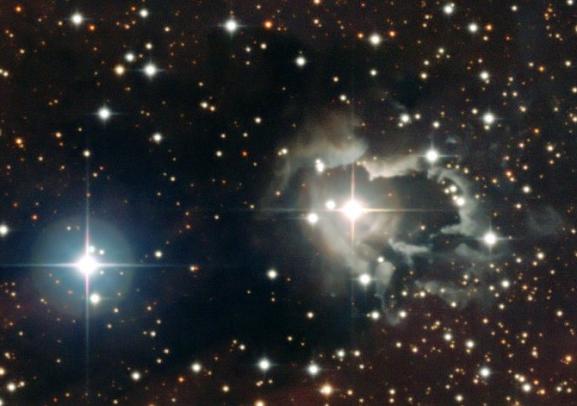 A cloudless sky lets you see the clouds in the sky. Bigger (20MB) TIFF version here.
The revelations come from the European Southern Observatory (ESO), a multinational science alliance. A team of top astro brainboxes have been probing the secrets of the star HD 87643, "a member of the exotic class of B[e] stars", for some time using the ESO's mighty telecopes located high in the mountains of Chile.
B[e] stars, apparently, are stars of spectral type B, with special emission lines in their spectra. They are surrounded by a large amount of dust. Type B stars are usually described as "blue/white" in colour, though this depends on conditions and which star you're on about. This one, in the middle of the pic, looks more white to us. The extended nebula of gas and dust surrounding the star can be clearly seen.
According to aptly-named ESO spokesman Dr Henri Boffin, boffins carrying out the research - led by Florentin Millour of Germany's Max-Planck Institut für Radioastronomie - believe that HD87643 gives off "regular ejections of matter from the star every 15 to 50 years". It is these ejections which have formed the unusual nebula surrounding the system.
Millour's crew theorise that the regular emissions of cosmic star-juice are caused by a companion star orbiting the central sun, which spends much of its time at a distance of perhaps 50 times that of the Earth from our Sun. According to Boffin:
The presence of the companion could be an explanation for the regular ejection of matter from the star and the formation of the nebula: as the companion moves on a highly elliptical orbit, it would regularly come very close to HD 87643, triggering an ejection.
Millour and Co's scholarly paper can be read in pdf courtesy of the ESO here. There are more pics here. ®
Sponsored: What next after Netezza?