Rogue iPhone app stores raking mazuma
Jailbreaking for fun and profit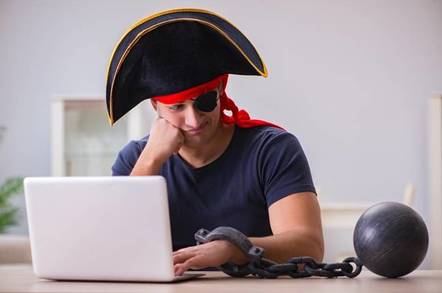 Apple's heavy-handed App Store mismanagement may anger and frustrate many iPhone developers and users, but it's making one group quite happy: jailbreakers.
There's a growing subculture of iPhone developers who are opting out of the App Store altogether, instead punting their wares on Cydia, an iPhone App Store "For the Rest of Us."
Wired on Thursday brought us up-to-date on this renegade paradise, the brainchild of Jay Freeman - better known among jailbreakers by his nom de code, Saurik.
Cydia is an iPhone app that provides access to the Cydia app store and works only on iPhones that have been jailbroken. [Is that a word? - Ed.]
Apple frowns on jailbreaking. Doing so will most certainly void your iPhone's warranty - although it's reportedly possible to to wipe your iPhone clean and restore it to its pristine, just-out-of-the-box state should you ever need to take it in for a warranty-covered repair.
Be forewarned, also, that Apple not only considers jailbreaking illegal, but says that doing so could crash cell towers and aid drug dealers.
But it can also allow you to install Cydia and get access to apps that Apple thinks improper, such as the Google Voice app GV mobile, which Apple recently banned from the App Store (an action that the FCC is investigating).
After that banning, GV Mobile's developer Sean Kovacs - who is not affiliated with Google - wrote in his blog "Looks like Apple/AT&T pissed off a lot of people...lol" and promised to put GV Mobile up on Cydia for free.
Developer Kim Streich agrees that Apple's control-freakishness is driving Cydia's success, telling Wired that "People are so annoyed by Apple and their shit, and if you give them opportunity to go around it, then they'll even pay for it."
That's right: pay for it. Although Cydia is stocked with a wealth of free apps, there's also a growing number of paid apps stocking its virtual shelves. Freeman/Saurik himself offers the one-buck Cyntact, which inserts profile photos into the iPhones contact lists.
Other paid apps available from the Cydia store include an MMS-enhancer, SwirlyMMS2, for $12; a Nintendo emulator, NES 3, for $5.99; a voicemail forwarder called, surprisingly enough, Voicemail Forwarder, for $2.99; and more.
Wired reports that the store has taken in $220,000 since it opened in March. Streich's 3G Unrestrictor, for example, which tricks apps into thinking they're on Wi-Fi when they're really only on EDGE or 3G, pulled in a cool $19,000 in just two weeks.
Although $220,000 isn't enough mazuma to put a dent in Apple's bottom line, Apple remains dead set against app distribution outside of its officially sanctioned App Store.
In a 27-page February filing (PDF) with the US Copyright Office in its ongoing legal wrangle with the Electronic Frontier Foundation, Apple sang the praises of its App Store, saying:
The App Store achieves the goal of encouraging development of a large number of applications (i) by providing an online store of high quality and far reach (branded by Apple) where developers of applications can make money or simply establish a reputation by making available their applications to a wider audience and with far less effort than if they had to establish their own web site or other marketing channels through which to sell their applications, and (ii) by providing a central and convenient location where iPhone users can go to try out and download a myriad of applications, similar to the way the iTunes Store provides a central location for users to go to purchase music for Apple's iPod™ products.
What Apple doesn't accept is that (i) some people - such as those who created Cydia and are selling their wares on it - are quite happy to "establish their own web site or other marketing channels through which to sell their applications," and (ii) others, such as those buying iPhone apps from Cydia, are equally happy to shop at a "convenient location...to try out and download a myriad of applications."
It's just not Apple's convenient location. ®