Toshiba unveils new external 3.5-inch drive
But stays tight-lipped on whose disk it uses
Toshiba has introduced its first external 3.5-inch format disk product, and it probably uses a third-party drive.
It holds up to 1TB of data and comes with USB 2.0 and eSATA connectivity. Bundled software backs up and restores files, and also the entire attached PC system. The drive comes with a USB cable and an AC adaptor and is both PC and Mac-compatible.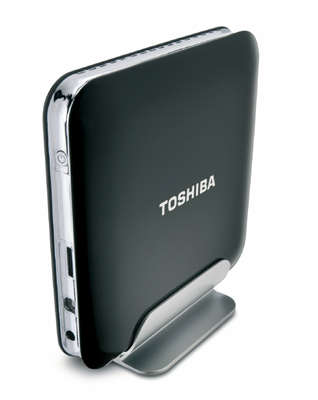 Toshiba manufactures its own 2.5-inch format disk drives and uses them in its notebooks and in a line of USB bus-powered external portable drives. Regarding this larger capacity and format external hard drive, it says it comes from a trusted brand.
Why bother stressing this? It didn't say it actually manufactured the 5400rpm SATA drive inside the box though, though, and the likelihood is that it has been externally sourced. No Toshiba source was immediately available to discuss this point.
Michael Cassidy, a director at Toshiba America Information Systems, said: "We designed the external hard drive to provide consumers an easy-to-use back up option that not only performs above (the) competition, but is also a stylish accessory for their PC." Toshiba says the product's design has a sleek high gloss finish with a vaporized metallic silver rim and LED activity light with white glow effects. It is mounted upright on a cradle stand.
The hard drive is available now through Toshiba America's channels, priced at $129.99 for 640GB and $159.99 for 1TB; both these are Toshiba's suggested retail price. It is backed by a 3-year limited warranty. ®