INQ launches 3G Twitter phones
Mobile social networking for the people
INQ is taking Twitter to the masses with two "social mobile" handsets.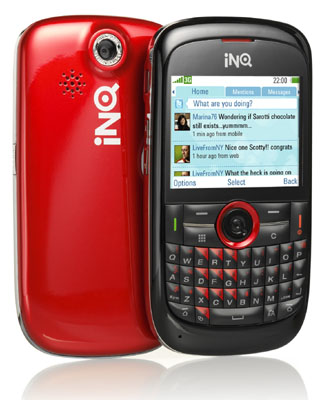 INQ's Chat 3G: for BlackBerry types?
The INQ Chat 3G and Mini 3G both support a 3G connection, as their names suggest. But while the flagship Chat is targeted to BlackBerry types on a budget, the Mini is an entry-level phone for the sensitive" pre-pay market.
Both phones have a suite of integrated social networking applications, including Facebook and Twitter (the latter can be set to 'always on',). Tweets are delivered using an internet connection, rather than as individual text messages. The handsets also comes with an IM tool, support for Skype.
The Chat is supplied with free push Gmail and its smaller sister offers access to web-based email services such as Hotmail, Yahoo! Mail and Gmail.
INQ has also developed a "seamless media synching" service, to enable users to sync their phones with Apple's iTunes.
Grip de-viced
Frank Meehan, INQ's CEO said: "We have completely broken the vice grip hold that high-end smartphones had on great mobile internet experiences, and made them available to everybody."
This is a little premature, even if INQ earned many plaudits for its first mobile handset, the INQ 1. Can its new phones gain the same kudos and, more importantly, orders from mobile operators in time for Christmas?
The company's pitch is two-fold. To the operators, it offers feature rich, cheapish handsets that drive mobile data and internet usage into price sensitive markets.
To the customers, INQ touts usability as well as affordability. It thinks its ground-up approach to software design allows INQ to "remove many of the cumbersome steps that have made using these services on ordinary mobiles frustrating or time-consuming. INQ phones multi-task, so key applications like Facebook, Skype, IM and email are 'always on' and accessible with one click from the home screen; a log-in to any application is required only once".
The Chat 3G and Mini 3G diverge on looks and technical features. For example, the 114.5 x 61 x 12.8mm Chat has a Qwerty thumbpad, while the Mini – which measures 102 x 45.8 x 12.8mm – has a much simpler keypad layout. Meehan said: "With the INQ1, we were blown away by how much consumers were writing just using the standard 12 keys – 30 per cent of them were regularly sending emails. So we know that a keypad will go down a storm."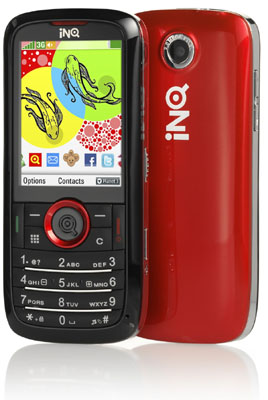 The Mini 3G is smaller than the Chat and sports lesser features
The Chat 3G has a 2.4in display, a 3.2Mp camera and an on-board GPS chip.
INQ's Mini 3G has a slightly smaller 2.2in screen and a less powerful 2Mp camera. The phone lacks a GPS chip.
External memory cards of up to 8GB can be slotted into both handsets, which should come in handy for storing the variety of file formats – including MP3 audio and MPEG-4 video - supported by both models. Both phones are bundled with plug-and-play HSDPA modems,
INQ's Chat 3G and Mini 3G will be available during Q4. A price hasn't been tweeted yet. ®
Sponsored: Minds Mastering Machines - Call for papers now open